Spiced apple & almond cake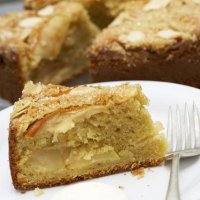 Serve this delicious apple and almond cake cold in the afternoon, or warm with a dollop of cream as a fruity dessert
What you need:
175g unsalted butter, softened
175g caster sugar
4 large eggs
75ml sour cream, plus extra to serve (optional)
125g ground almonds
115g plain flour
1 tsp ground mixed spice
1 tsp baking powder
2 Pink Lady Apples, cored and thinly sliced
25g flaked almonds
1 tbsp demerara sugar for sprinkling
What you do:

Heat the oven to 180˚C/160˚C fan ovens/gas 4
Grease a 20cm wide loose bottomed or spring form cake tin, and line the base with baking paper.
Beat together the butter and sugar until light and creamy. Add the eggs, one at a time and then beat in the sour cream. The mixture may look as though it is curdling but don't panic as the next stage will bring it back to a creamier texture. Stir in the almonds, flour, mixed spice and baking powder, and you should have a thick cake batter.
Spoon half of the mixture into the prepared tin. Lay half of the apples on top and then spread the other half of the cake mixture on top of the apples.
Arrange the remaining of the apples over the cake mixture, in a neat pattern, overlapping slightly.
Finish off by scatter over flaked almonds and then the 1 tbsp demerara sugar.

Place in the oven and bake for 1 hour-1 hour 10 minutes, testing with a skewer after 1 hour. If it comes out clean when inserted in the middle of the cake, it is ready to come out of the oven. The top of the cake will be wonderfully golden, crispy and cracking slightly.
Leave to cool in the tin for about 30 minutes before removing from the tin. Serve the cake warm or cold, cut into wedges just as it is or with a spoonful of sour cream.
This page can be found at: http://secretsauce.co.uk/cakes-desserts/cake-recipes/spiced-apple-and-almond-cake/
A short link can also be used: http://bit.ly/i08oOe
Pink Lady apples

Pink Lady apples have a distinctive crisp texture and fizzy flavour – similar to champagne. It takes 200 days of tender care and, once ripe, each apple undergoes a rigorous quality control process to ensure that the high standard is kept – only the best apples can become a Pink Lady apple. Pink Lady apples are perfect culinary apples as they retain their texture and unique flavour and little, if any, additional sugar needs to be added.
More from Pink Lady apples

Flapjacks are great for desserts, snacks and even lunchboxes, so make up a tray and watch them disappear!

This wonderfully decadent dessert is perfect to serve at a large family gathering.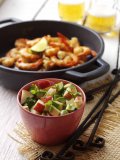 Even when the sun doesn't always shine this tasty, zingy very easy to make Australian recipe will make it seem like it does.
Popular in cake recipes

This recipe just makes my mouth water! Smooth, sweet buttercream with tempting, moist chocolate cake. Don't try and resist!

Classic lemon drizzle cake with a twist! The elderflower cordial adds an extra sweet flavour to this delicious cake. Try it and see!

For a surprising treat, the tomato ketchup cake is sure to tantalise your tastebuds!