Apple & blackberry brown sugar pavlova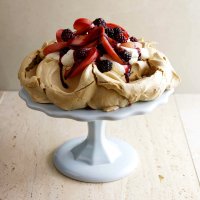 This wonderfully decadent dessert is perfect to serve at a large family gathering. New Zealand is home to the Pavlova and offers both Pink Lady apples and juicy blackberries, a perfect combination that will become a firm favourite whenever the occasion arises.
Preparation: 30 mins
Cooking: 60 mins
Serves: 8
What you need:
For the meringue:
4 free range egg whites
125g light brown muscovado sugar
125g caster sugar
1 tsp cornflour
1 tsp white wine vinegar
For the topping:
150ml red wine
1 orange, zest and juice
25g light brown muscovado sugar
1 cinnamon stick
1 Pink Lady apple, cored and sliced
150g blackberries
300ml double cream
What you do:
Pre heat oven 150C˚/140C˚ fan/gas 1. Line a large baking tray with baking parchment, draw a 20cm circle using a dinner plate.
Place the egg whites in a mixing bowl and whisk until standing in soft peaks, gradually add both the sugars followed by the cornflour and vinegar.
Place in the middle of the circle and spread out making a little dip in the middle. Cook for 1 hour then turn the oven off and leave to cool in the oven.
Whilst the meringue is cooking make the fruit topping as this needs to cool before assembling.
Place the red wine, orange juice and zest, sugar and cinnamon stick into a saucepan, bring to the boil allow to bubble away for a few minutes.
Reduce the heat and add the Pink Lady apples. Cover and allow to poach gently until soft but still with a little bite, approximately 15 minutes, add the blackberries and take off the heat. Cover the pan and leave to cool.
When ready to assemble whip the cream until standing in soft peaks. Carefully place the Pavlova on a serving plate, don't worry if it cracks a little, spoon the cream into the centre of the meringue. Drain and pat dry the fruit, reserving the liquid and arrange over the Pavlova.
Boil the reserved juices until reduced and syrupy, allow to cool then spoon over the Pavlova.
This page can be found at: http://secretsauce.co.uk/cakes-desserts/blackberry-recipes/apple-and-blackberry-brown-sugar-pavlova/
A short link can also be used: http://bit.ly/1lIBDS7
Skandi Candle
Pure soy wax candles in Flack Fig & Vetiver or Lemon fragrances - perfect for any dinner party or romantic night in.
Pink Lady apples

Pink Lady apples have a distinctive crisp texture and fizzy flavour – similar to champagne. It takes 200 days of tender care and, once ripe, each apple undergoes a rigorous quality control process to ensure that the high standard is kept – only the best apples can become a Pink Lady apple. Pink Lady apples are perfect culinary apples as they retain their texture and unique flavour and little, if any, additional sugar needs to be added.
More from Pink Lady apples

Flapjacks are great for desserts, snacks and even lunchboxes, so make up a tray and watch them disappear!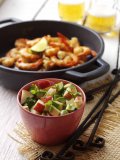 Even when the sun doesn't always shine this tasty, zingy very easy to make Australian recipe will make it seem like it does.

This lovely classic French dish is halfway between a saute and a stew
Popular in blackberry recipes

Buy five ingredients, add one store cupboard ingredient, and you'll have a delicious bread and butter pudding, devised by celebrity chef Rosemary Shrager, to enjoy!