Garlic & chilli prawns with apple, avocado & lime salsa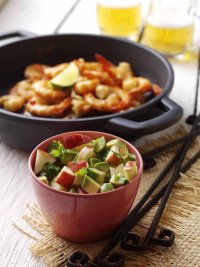 Even when the sun doesn't always shine this tasty, zingy very easy to make Australian recipe will make it seem like it does. The crisp sweet flavour of the locally-grown Pink Lady apple with the smooth avocado make this salsa a winner, it will go with almost any grilled or barbequed meat so don't just save it for the prawns.
Preparation: 20 mins
Cooking: 10 mins
Serves: 4
What you need:
For the salsa:
1 Pink Lady apple, cored and cubed
1 ripe avocado, halved, skin and stone removed, cubed
Juice of 1 lime
1 tbsp fresh coriander, chopped
For the prawns:
2 tbsp olive oil
1 tbsp butter
2 garlic cloves, crushed
300g large raw prawns
1 large red chilli, deseeded and finely chopped or 1 tsp chilli flakes
Zest and juice of 1 lime
2 tbsp fresh coriander, roughly chopped or torn
What you do:
First make the salsa by combining all the ingredients together, place in a bowl, cover and leave in the fridge until ready to serve.
Heat the olive oil and butter in a large frying pan, add the garlic and cook over a medium heat for a few seconds. Increase the heat to high and add the prawns and chilli or dry chilli flakes, stirring continuously until the prawns are nice and pink and cooked through.
Add the zest and juice of the lime and sprinkle with the coriander, serve immediately with the salsa on the side and some crusty bread to soak up all the lovely juices.
This page can be found at: http://secretsauce.co.uk/fish-seafood/prawn-recipes/garlic-and-chilli-prawns-with-salsa/
A short link can also be used: http://bit.ly/1lIBDS1
Skandi Candle
Pure soy wax candles in Flack Fig & Vetiver or Lemon fragrances - perfect for any dinner party or romantic night in.
Pink Lady apples

Pink Lady apples have a distinctive crisp texture and fizzy flavour – similar to champagne. It takes 200 days of tender care and, once ripe, each apple undergoes a rigorous quality control process to ensure that the high standard is kept – only the best apples can become a Pink Lady apple. Pink Lady apples are perfect culinary apples as they retain their texture and unique flavour and little, if any, additional sugar needs to be added.
More from Pink Lady apples

Flapjacks are great for desserts, snacks and even lunchboxes, so make up a tray and watch them disappear!

This wonderfully decadent dessert is perfect to serve at a large family gathering.

This lovely classic French dish is halfway between a saute and a stew
Popular in prawn recipes

Tender prawns are great in stir-fries, the cashew nuts give this dish an added crunch and the shiitake mushrooms are tender and full of flavour

Forget the Eighties classic in a cocktail glass, this version is right up to date and includes smoked salmon!

A delicious sandwich enhanced by homemade seafood sauce