Apple flapjacks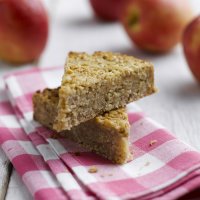 Flapjacks are great for desserts, snacks and even lunchboxes, so make up a tray and watch them disappear!
What you need:
1kg Pink Lady apples 9 (peeled, cored and grated)
200g oats
70ml golden syrup
150g butter
60g sugar
Pinch of salt
Pinch of ground ginger
What you do:
Simmer the apples gently in a covered pan with the sugar, until it becomes a pulpy.
Then add the butter and golden syrup and bring to the simmer, stir in the oats, salt and ginger.
Pour the mix into a buttered cake tin (8in round) and bake in the oven at 180oc for 30minutes.
Allow to cool before turning out.
This page can be found at: http://secretsauce.co.uk/cakes-desserts/apple-recipes/apple-flapjacks/
A short link can also be used: http://bit.ly/ergeAh
Skandi Candle
Pure soy wax candles in Flack Fig & Vetiver or Lemon fragrances - perfect for any dinner party or romantic night in.
Pink Lady apples

Pink Lady apples have a distinctive crisp texture and fizzy flavour – similar to champagne. It takes 200 days of tender care and, once ripe, each apple undergoes a rigorous quality control process to ensure that the high standard is kept – only the best apples can become a Pink Lady apple. Pink Lady apples are perfect culinary apples as they retain their texture and unique flavour and little, if any, additional sugar needs to be added.
More from Pink Lady apples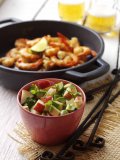 Even when the sun doesn't always shine this tasty, zingy very easy to make Australian recipe will make it seem like it does.

This wonderfully decadent dessert is perfect to serve at a large family gathering.

This lovely classic French dish is halfway between a saute and a stew
Popular in apple recipes

These are tasty snacks, which may be served warm or cold

A traditional, fruity Bramley Apple Crumble developed for children by celebrity chef Phil Vickery

Mmmmmm apple pies. The smell of them baking, the first cut of the fork into the pastry and the apples oozing out...