Mint topped carrot cake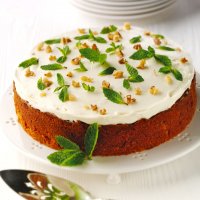 A delicious cake, perfect for serving up to guests for tea, topped off with fresh mint - the perfect accompaniment
Preparation: 20 mins
Cooking: 60 mins
Serves: 8
What you need:
225g butter, softened
225g light soft brown sugar
4 medium eggs
225g self raising flour
1 tsp baking powder
350g carrots, grated
100g walnuts, chopped
75g soft cheese
50g icing sugar
Sprigs of fresh mint, from a living pot of mint
What you do:
Preheat the oven to 180°C, gas mark 4. Grease and base line a 20cm cake tin.
Cream the butter and sugar together until pale and fluffy. Whisk in the eggs, one at a time.
Mix the flour and baking powder together and fold into the butter mixture. Stir in the carrots and walnuts, reserving 2 tbsp walnuts for decorating. Spoon into the cake tin and bake for 1-1 1/2 hours or until golden and a skewer comes out clean. Remove from the tin and allow to cool.
Mix the soft cheese with the icing sugar and spread over the top of the cake. Decorate with sprigs of fresh, living mint and sprinkle over the reserved walnuts.
This page can be found at: http://secretsauce.co.uk/cakes-desserts/cake-recipes/mint-topped-carrot-cake/
A short link can also be used: http://bit.ly/N6G1Ha
The Fresh Herb Company

The Fresh Herb Company, also known as VHB Herbs, is the largest producer and supplier of fresh herbs to the UK retail market. The Fresh Herb Company is running a campaign called 5 Ways with Fresh Living Herbs. This campaign aims to inspire people to keep pots of fresh living herbs in the kitchen so they can add healthy flavour to dishes quickly and easily.
More from The Fresh Herb Company

Atul is the only Indian chef to have two Michelin stars in the UK and is the head chef at the world renowned Benares restaurant, in London.

One of the most tempting dishes on a restaurant starter dish, so why haven't you ever tried making it at home?!

Chives are so compatible with seafood, particularly prawns. Try this delicious pasta dish and don't scrimp on the delicious fresh herbs!
Popular in cake recipes

This recipe just makes my mouth water! Smooth, sweet buttercream with tempting, moist chocolate cake. Don't try and resist!

Classic lemon drizzle cake with a twist! The elderflower cordial adds an extra sweet flavour to this delicious cake. Try it and see!

For a surprising treat, the tomato ketchup cake is sure to tantalise your tastebuds!