Atul Kochhar's grilled red bream with spice rub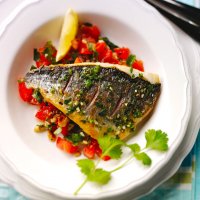 Atul is the only Indian chef to have two Michelin stars in the UK and is the head chef at the world renowned Benares restaurant, in London.
Preparation: 15 mins
Cooking: 8 mins
Serves: 4
What you need:
4 red bream fillets
3 tbsp olive oil
2 crushed garlic cloves
1 tsp crushed coriander seeds
1 tsp lemon juice
4 tbsp chopped coriander leaves, from a living pot of coriander
1 finely chopped small green chilli
Lemon wedges, to serve
What you do:
Mix all the ingredients, except the fish, together and season with salt.
Line a baking sheet with foil and place the fish fillets on it, skin-side down. Brush the spice rub over the fish. Place under a hot grill for 6-8 minutes, until cooked through and lightly golden.
Serve with lemon wedges and fresh coriander leaves.
Cook's tip:
Atul Kochhar says 'Coriander is a herb commonly used in Indian cuisine. It is such a versatile herb and has many different uses both inside the kitchen and out. As with most herbs, coriander is best when used fresh rather than dried, and the potted plant can last much longer than the cut variety - which means more time to use this herb as a key ingredient in new and exciting ways. In India, coriander is known for aiding digestion, but it can also freshen your breath and help you sleep.'
This page can be found at: http://secretsauce.co.uk/fish-seafood/bream-recipes/atul-kochhars-grilled-red-bream-with-spice-rub/
A short link can also be used: http://bit.ly/Qrad6E
The Fresh Herb Company

The Fresh Herb Company, also known as VHB Herbs, is the largest producer and supplier of fresh herbs to the UK retail market. The Fresh Herb Company is running a campaign called 5 Ways with Fresh Living Herbs. This campaign aims to inspire people to keep pots of fresh living herbs in the kitchen so they can add healthy flavour to dishes quickly and easily.
More from The Fresh Herb Company

One of the most tempting dishes on a restaurant starter dish, so why haven't you ever tried making it at home?!

Chives are so compatible with seafood, particularly prawns. Try this delicious pasta dish and don't scrimp on the delicious fresh herbs!

Food expert Jill Brand is one of the Women's Institute's trained judges and has written several books sharing the cookery secrets of the WI. She has also appeared as a guest judge on Celebrity Masterchef.