Fiendish pumpkin cake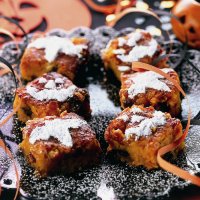 These super treats make a great change from shop bought sweets and your kids will love making and decorating them with spooky designs for Halloween
Serves: 6-8
Preparation time: 30 mins
Cooking time: 55-60mins
What you need:
1.35kg (3lb) pumpkin or butternut squash, peeled, deseeded and diced
½tsp grated nutmeg
150g (5½oz) light brown sugar
1tsp salt
115g (4oz) desiccated coconut
397g can Carnation Condensed Milk
1tsp vanilla extract
55g (2oz) butter, melted
55g (2oz) raisins
What you do:
Preheat the oven to 190°C, 375°F, Gas Mark 5.
In a large pan add the pumpkin and cook in boiling water for 20 minutes, or place in a large bowl and microwave on high with 3 tablespoons water for 10-15 minutes until soft. Mash and cool slightly.
Grease an 18cm x 25.5cm (7in x10in) rectangular baking dish. In a large bowl mix together the remaining ingredients and the cooked pumpkin.
Spoon into a prepared dish and bake for 55-60 minutes until slightly brown and firm to the touch.
This page can be found at: http://secretsauce.co.uk/cakes-desserts/cake-recipes/fiendish-pumpkin-cake/
A short link can also be used: http://bit.ly/f1ilKE
Nestlé Carnation

Do you long to make beautiful, delicious puddings to impress your friends and family but lack the time and confidence? Well, help is at hand! The
Carnation
range of products is the short and deliciously sweet route to dessert heaven…
More from Nestlé Carnation

This quick-setting light textured cheesecake is the perfect answer to an alternative to the richness of Christmas pudding...

Creamy and delicious, these rum and raisin brulees are the creme de la creme of desserts - perfect as an alternative for Christmas pudding!

These mini desserts are perfect to serve up for a dinner party - what could be better than individual version of banoffee pies?
Popular in cake recipes

This recipe just makes my mouth water! Smooth, sweet buttercream with tempting, moist chocolate cake. Don't try and resist!

Classic lemon drizzle cake with a twist! The elderflower cordial adds an extra sweet flavour to this delicious cake. Try it and see!

For a surprising treat, the tomato ketchup cake is sure to tantalise your tastebuds!