Little banoffee pies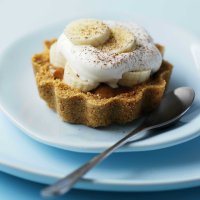 These mini desserts are perfect to serve up for a dinner party - what could be better than individual version of banoffee pies?
Serves: 6
Preparation time: 10 minutes
Chilling time: 40 minutes
What you need:
Base:
250g (9oz) digestive biscuits
100g (3½oz) butter, melted
Filling:
397g can Carnation Caramel
3 small bananas
284ml carton whipping cream, softly whipped
cocoa powder to finish
You will also need:
6 individual 9 cm (3 ½ ") loose-bottomed flan tins
Alternatively use a deep 18 cm (7 ") springform cake tin, greased
What you do:
To make the base, blitz the biscuits in a food processor until they are like fine crumbs and then combine with the melted butter.
Using the back of a teaspoon, press the mixture into the base and sides of the tins. Chill for about 20 minutes.
Divide the caramel between the bases.
Remove the pies from the tins. Slice the bananas, reserve six for the top and fold the rest into the softly whipped cream.
Spoon the mixture over the caramel, decorate with a banana slice and dust with the cocoa.
Handy tip:
Turn this recipe into a sundae idea - layer the crushed biscuits (without the melted butter) and other ingredients into sundae glasses and chill until ready to serve.
This page can be found at: http://secretsauce.co.uk/cakes-desserts/toffee-recipes/single-banoffee-pies/
A short link can also be used: http://bit.ly/dHs5Bi
Nestlé Carnation

Do you long to make beautiful, delicious puddings to impress your friends and family but lack the time and confidence? Well, help is at hand! The
Carnation
range of products is the short and deliciously sweet route to dessert heaven…
More from Nestlé Carnation

This quick-setting light textured cheesecake is the perfect answer to an alternative to the richness of Christmas pudding...

Creamy and delicious, these rum and raisin brulees are the creme de la creme of desserts - perfect as an alternative for Christmas pudding!

Try this all-time favourite at home for Bonfire Night, but take care when making as the toffee gets very hot!
Popular in toffee recipes

Making your own toffee is such a satisfying and fun thing to do and the result will you keep you and the kids happy for days! It's a great Halloween treat too!

This firecracker of a sweet treat is sure to get the tastebuds of both the kids and the adults tingling.