Rum & Raisin creme brulees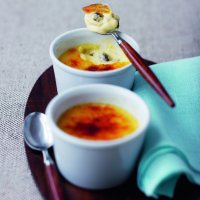 Creamy and delicious, these rum and raisin brulees are the creme de la creme of desserts - perfect as an alternative for Christmas pudding!

Serves: 6
Preparation time: 10 minutes
Cooking time: 40 minutes
What you need:
85g (3oz) raisins
3tbsp dark rum
½ tsp nutmeg
284ml carton whipping cream
100ml (3½fl oz) semi skimmed milk
4 large egg yolks
6tbsp Carnation Condensed Milk
caster sugar, to glaze
What you do:
Preheat the oven to 150°C, 300°F, Gas Mark 2.
Tip the raisins into a saucepan with the rum and 2tbsp water. Simmer until the liquid has almost entirely cooked in to the raisins. Divide them between six ramekins, 7.5cm x 4cm (3in x 1½in) or similar size coffee cups.
Pour the cream and milk into the raisin pan. Add the nutmeg and bring gently to the boil. Mix the egg yolks and condensed milk together in a large jug. Carefully pour the cream mixture onto the eggs and stir to combine thoroughly. Divide the custard mixture into the ramekins.
Place the dishes into a deep baking tin and fill the tin with enough boiling water to come two thirds up the sides of the dishes. Cover with foil and bake for 40 minutes until just set. Remove from the oven and place the dishes on a rack to cool. Chill well in the refrigerator.
To glaze the brulées: preheat the grill to its highest setting. Sprinkle a thin layer of caster sugar over each dish, ensuring the custard is covered. Place under the grill for 5-6 minutes until the sugar has melted to golden brown. Alternatively use a hand-held blowtorch. Cool slightly before serving.
This page can be found at: http://secretsauce.co.uk/cakes-desserts/creme-brulee-recipes/rum-and-raisin-creme-brulees/
A short link can also be used: http://bit.ly/gcmWig
Nestlé Carnation

Do you long to make beautiful, delicious puddings to impress your friends and family but lack the time and confidence? Well, help is at hand! The
Carnation
range of products is the short and deliciously sweet route to dessert heaven…
More from Nestlé Carnation

This quick-setting light textured cheesecake is the perfect answer to an alternative to the richness of Christmas pudding...

These mini desserts are perfect to serve up for a dinner party - what could be better than individual version of banoffee pies?

Try this all-time favourite at home for Bonfire Night, but take care when making as the toffee gets very hot!
Popular in creme brulee recipes

A delicious take on creme brulée with a fruity tang

Sweet, creamy with a crunch sugary topping, this creme brulée will finish off any Thai meal perfectly