Creamy raspberry & oat cake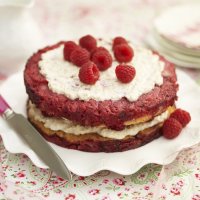 Porridge oats aren't just for breakfast! Try making this lovely oat cake and have it for tea!
Preparation: 15 mins
Cooking: 15 mins
Serves: 8
What you need:
100g Jordans Porridge Oats (You can use Traditional Chunky, Quick & Creamy or Organic Porridge)
150ml half fat crème fraiche
50g caster sugar
300g raspberries
150g butter, softened
150g caster sugar
3 eggs
1/2 tsp vanilla extract
50g ground almonds
150g self raising flour
What you do:
Soak the oats in the crème fraiche and caster sugar for 4 hours, or overnight.
To make the cake, preheat the oven to 180°c/170°c fan/375°F. Prepare 2 x 20cm loose bottomed cake tins.
Mash 200g of the raspberries, and divide between the cake tins.
Cream the butter and sugar together until light and fluffy, and stir in the eggs slowly, beating between each addition. Stir in the vanilla and the ground almonds. Fold in the flour.
Divide the mix between the prepared tins, and bake for 15mins.
When the cakes are cooked through, turn out of the tin and cool on a rack.
To serve, spoon some of the oat mix over both halves. Divide the reserved raspberries over both halves, and put the cake together.
This page can be found at: http://secretsauce.co.uk/cakes-desserts/cake-recipes/creamy-raspberry-and-oat-cake/
A short link can also be used: http://bit.ly/i2low7
Jordans Cereals

The reason
Jordans Cereals
and bars are so good is thanks to the quality of the ingredients - only the finest wholegrain oats are blended with the crispiest toasted wheat flakes, the juiciest fruits and the crunchiest nuts. But it's not just about the taste. The dedicated group of Conservation Grade farmers around Britain are passionate about growing ingredients which also help wildlife to flourish. It's called all-round goodness.
More from Jordans Cereals

Sweet, delicious breakfast muffins will certainly get your morning off to a good start!

A slice of cake for breakfast might strike you as a bit decadent, but as it's got muesli in it, it counts as a breakfast dish!

This is a perfect winter warmer of a recipe. The soft fruit is covered in a crumble topping, served with silky soft cinnamon cream.
Popular in cake recipes

This recipe just makes my mouth water! Smooth, sweet buttercream with tempting, moist chocolate cake. Don't try and resist!

Classic lemon drizzle cake with a twist! The elderflower cordial adds an extra sweet flavour to this delicious cake. Try it and see!

For a surprising treat, the tomato ketchup cake is sure to tantalise your tastebuds!