Apple & muesli crumble cake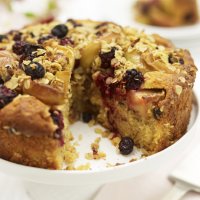 A slice of cake for breakfast might strike you as a bit decadent, but as it's got muesli in it, it counts as a breakfast dish!
Preparation: 30 mins
Cooking: 90 mins
Serves: 8
What you need:
175g unsalted butter
150g, plus 1 tbsp golden caster sugar
3 eating apples, peeled, cored and cut into 8 wedges, you can try pears too
3 large eggs, beaten
220g plain flour
2 tsp baking powder
150g crème fraiche (or mascarpone cheese)
150g blackberries or raspberries
For the muesli topping
25g unsalted butter
175g Jordans Super Berry Muesli
What you do:
Heat the oven to 170°c/150°c fan/Gas Mark 4. Butter and line a 20cm round tin with greaseproof paper, grease again to prevent the cake sticking.
To make the topping, melt the butter,then mix in the muesli, stir until well mixed and set aside. In a large shallow pan heat 25g butter, add 1tbsp caster sugar and the apple wedges. Cook for about 10 minutes until the apples are soft and golden, set aside to cool.
Beat together the remaining butter and caster sugar until pale, soft and fluffy. Gradually mix in the eggs. Sieve together the flour and baking powder, add to the egg mixture and then carefully, using a large metal spoon fold in, take care not to 'knock' too much of the air out of the mixture. Add the crème fraiche (or mascarpone cheese) and mix until smooth.
Spoon around two thirds of the cake mixture into the tin,level and then scatter over one third of the muesli mixture and a quarter of the berries. Top with the remaining cake mixture and level again. Then scatter on another third of the muesli and arrange the apple wedges and remaining blackberries on top. Finally top with the remaining muesli mixture.
Bake for about 1 1/2 hours.If the cake looks like it is browning too quickly then cover it loosely with a piece of greaseproof paper, which will prevent the top burning.
Cool the cake in the tin for 10 minutes and then transfer to a serving plate or just cut it up and eat it right away.
This page can be found at: http://secretsauce.co.uk/cakes-desserts/cake-recipes/apple-and-muesli-crumble-cake/
A short link can also be used: http://bit.ly/fwBCj2
Jordans Cereals

The reason
Jordans Cereals
and bars are so good is thanks to the quality of the ingredients - only the finest wholegrain oats are blended with the crispiest toasted wheat flakes, the juiciest fruits and the crunchiest nuts. But it's not just about the taste. The dedicated group of Conservation Grade farmers around Britain are passionate about growing ingredients which also help wildlife to flourish. It's called all-round goodness.
More from Jordans Cereals

Sweet, delicious breakfast muffins will certainly get your morning off to a good start!

This is a perfect winter warmer of a recipe. The soft fruit is covered in a crumble topping, served with silky soft cinnamon cream.

A deliciously moist and fruity crumble cake that's perfect to eat at any time of the day.
Popular in cake recipes

This recipe just makes my mouth water! Smooth, sweet buttercream with tempting, moist chocolate cake. Don't try and resist!

Classic lemon drizzle cake with a twist! The elderflower cordial adds an extra sweet flavour to this delicious cake. Try it and see!

For a surprising treat, the tomato ketchup cake is sure to tantalise your tastebuds!