Chocolate Guinness cake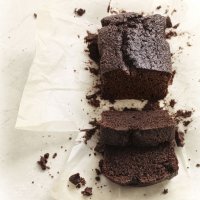 Adapted from an American cola cake, this great chocolate cake recipe is easy to make, yet incredibly tasty and moist!
Preparation: 20 mins
Cooking: 50 mins
What you need:
125g salted butter
125ml Guinness
125g self-raising flour
40g cocoa powder
1/2 tsp Dr. Oetker Bicarbonate of Soda
125g caster sugar
75ml milk
1 egg, beaten
1 tsp Dr. Oetker Madagascan Vanilla Extract
50g Dr. Oetker Fine Cooks' Dark Chocolate, broken into small pieces
What you do:
Preheat the oven to 180°C, 160° Fan, Gas Mark 4. Line a 1kg loaf tin with greaseproof paper. Put the butter and Guinness in a saucepan over a low heat until the butter has melted.
Sift the flour, cocoa powder and Bicarbonate of Soda together in a mixing bowl. Add the sugar, milk, egg, Vanilla Extract, Chocolate pieces and melted butter mixture and mix together well.
Spoon the mixture into the prepared loaf tin and bake in the preheated oven for 50 minutes until risen and just firm to touch. A skewer or cocktail stick inserted into the middle of the cake should come out clean.
Leave to cool for 10 minutes, then carefully remove from the tin. It is delicious served warm as a dessert with a chocolate sauce, or eaten cold.
Cook's tip:
To add something special to your Chocolate Guinness cake, why not give it a cream cheese frosting to make it look like the pale top of the stout?
This page can be found at: http://secretsauce.co.uk/cakes-desserts/cake-recipes/chocolate-guinness-cake/
A short link can also be used: http://bit.ly/1fRJJZ7
Dr. Oetker

Trust, sustainability and credibility are extremely important factors in the Dr. Oetker family business. Established over 100 years ago in Germany, the business has developed with these values at its core and now enjoys a reputation as one of the most trusted food brands internationally.
More from Dr. Oetker

Delicious cupcakes decorated with vanilla buttercream and beautiful decorations

The ultimate colourful bite-size dessert - great for kids' parties or baking with the children!

Delicious cakes on a stick - these make a refreshing change to a bunch of flowers or a great centrepiece for a party.
Popular in cake recipes

This recipe just makes my mouth water! Smooth, sweet buttercream with tempting, moist chocolate cake. Don't try and resist!

Classic lemon drizzle cake with a twist! The elderflower cordial adds an extra sweet flavour to this delicious cake. Try it and see!

For a surprising treat, the tomato ketchup cake is sure to tantalise your tastebuds!