Gluten-free cupcakes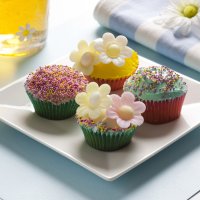 Delicious cupcakes decorated with vanilla buttercream and beautiful decorations
What you need:
125g butter
125g caster sugar
125g plain / plain gluten free flour
2 medium eggs
1.5 tsp Dr. Oetker Baking Powder/ Dr. Oetker Gluten Free Baking Powder
Few drops Dr. Oetker Natural Vanilla Extract
Dr. Oetker Fun Baking Cases
Decorate with:
Vanilla Buttercream using Dr. Oetker Vanilla Extract
Dr. Oetker Wafer Daisies
Dr. Oetker Hundreds & Thousands (NOTE: These contain gluten)

What you do:
Cream together the butter and sugar using an electric hand whisk or a wooden spoon.
Add a spoon of flour, and one egg then mix well, repeat.
Add rest of flour, baking powder and vanilla extract and mix till smooth.
Place 12 baking cases into muffin tins, and then spoon the mixture in until it comes halfway up each case.
Place in preheated oven and bake for 18-20 minutes until risen and lightly golden
Allow to cool completely.
To decorate:
Take buttercream and use liquid food colours to create the shades you want.
Take a piping bag with a rose nozzle and open the bag up over your hand, with a small spoon put some of the coloured buttercream in the bag on one side, spoon the uncoloured vanilla buttercream into the other side of the bag so both colours can feed into the nozzle at the same time.
Twist the icing bag shut and pipe a rosette onto the top of the cake.
Cook's tip:
These cupcakes can be made with either gluten free flour or plain flour - both make delicious cupcakes that are popular with everyone
This page can be found at: http://secretsauce.co.uk/cakes-desserts/cup-cake-recipes/gluten-free-cupcakes/
A short link can also be used: http://bit.ly/hEuwvS
Dr. Oetker

Trust, sustainability and credibility are extremely important factors in the Dr. Oetker family business. Established over 100 years ago in Germany, the business has developed with these values at its core and now enjoys a reputation as one of the most trusted food brands internationally.
More from Dr. Oetker

The ultimate colourful bite-size dessert - great for kids' parties or baking with the children!

Delicious cakes on a stick - these make a refreshing change to a bunch of flowers or a great centrepiece for a party.

Delicious eclairs - decorate them with the kids for a fun activity with a sweet treat at the end!
Popular in cup cake recipes

Feed the nation's love for cupcakes with a freshly baked batch of lemon and honey cupcakes

A gorgeous cupcake perfect for summer - light and fruity!

Rich dark chocolate combines beautifully with the creamy ripe avocados and toasted walnuts to create a truly melt-in-the mouth, unique and luxurious taste.