Mini confetti meringues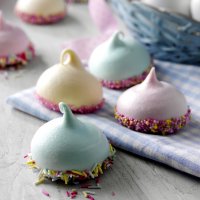 Dr. Oetker have created the ultimate colourful bite-size dessert for all to enjoy. Putting fun into baking, this delicious recipe is sure to impress the family and friends and make for even better baking.
What you need:
3 medium egg whites
150g (5oz) caster sugar
5ml (1 tsp) Dr. Oetker Vanilla Extract
Dr. Oetker Bright Gel Food Colours
200g (7oz) Dr. Oetker Fine Cooks White Chocolate, broken into pieces
Dr. Oetker Glimmer 100s and 1000s, Pink Shimmer Sugar and Sugar Strands to decorate
What you do:
Preheat the oven to 110°C (90°C fan oven, 225°F, gas 1/4). Line two large baking trays with baking parchment. In a large grease-free bowl, whisk the egg whites until very stiff and dry. Whisk in half the sugar. Gently fold in the remaining sugar along with the vanilla extract.
Equally divide the mixture between three bowls and add a few drops of one of the gel food colours to each mixture. Carefully and gently fold in using a large metal spoon to make three pastel coloured meringue mixtures.
Working on one coloured meringue at a time, put into a large piping bag fitted with a 1cm (1/2in) plain nozzle and pipe 4-5cm (11/2 - 2inch) mounds on to the prepared baking trays.
Repeat with the remaining meringue mixtures to end up with approx. 30 mini meringues. Bake in the oven for about one hour until the meringues are crisp on the outside, but not browned - prop the oven door open slightly if they start to discolour. Cool on the baking trays.
To decorate, put the chocolate in a heatproof bowl and place over a saucepan of barely simmering water until melted. Remove from the water, beat until smooth and cool for 10 minutes.
Put the sugar decorations in two small bowls. Working on one meringue at a time, carefully dip the bottom in white chocolate and then in sugar decorations. Put back on the lined baking tray to set. Repeat until all the meringues are decorated then put aside in a cool place for about 30 minutes until set.
Cook's tip:
These meringues are crisp on the outside, yet stay chewy in the centre; they will keep in an airtight container for several days. Avoid putting the meringues in the fridge to set the chocolate as this softens the texture.
This page can be found at: http://secretsauce.co.uk/cakes-desserts/meringue-recipes/mini-confetti-meringues/
A short link can also be used: http://bit.ly/I2u5mg
Dr. Oetker

Trust, sustainability and credibility are extremely important factors in the Dr. Oetker family business. Established over 100 years ago in Germany, the business has developed with these values at its core and now enjoys a reputation as one of the most trusted food brands internationally.
More from Dr. Oetker

Delicious cupcakes decorated with vanilla buttercream and beautiful decorations

Delicious cakes on a stick - these make a refreshing change to a bunch of flowers or a great centrepiece for a party.

Delicious eclairs - decorate them with the kids for a fun activity with a sweet treat at the end!
Popular in meringue recipes

Perfect for a hot summer's afternoon, but really easy to make, just top them with whipped cream and a berry sorbet to cool everyone down

A magnificently indulgent dessert which tastes even better than it looks!

This is a fantastically creamy exotic dessert with passion fruit, meringue and mango - perfect for a dinner party and really quick to make