Cake pops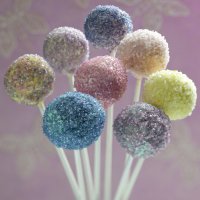 Delicious cakes on a stick - these make a refreshing change to a bunch of flowers or a great centrepiece for a party.
What you need:
185g butter, softened
185g caster sugar
3 medium eggs, beaten
275g plain flour
1 tsp Dr. Oetker Baking Powder
Dr. Oetker Natural Lemon or Orange Extract- few drops to taste
Dr. Oetker Shimmer Sugar
6 level tbsp of Vanilla Buttercream to make the Cake Pops
3 x 150g bars of Dr. Oetker Continental White Chocolate
Pack of 15 20cm lolly sticks
What you do:
Line an 11cm x 22cm loaf tin with greaseproof paper.
Cream butter and sugar with an electric hand whisk or wooden spoon till light and fluffy.
Add eggs one at a time with a spoon of flour and mix well.
Add rest of flour and baking powder and mix till all incorporated.
Add a few drops of lemon/orange extract to taste.
Put in preheated oven and bake in the centre of the oven for 1 1/4 hours to 1 1/2 hours until firm to the touch. Remove from tin, place on a cooling rack, cool completely and remove the paper.
Remove all the outer surfaces of the cake to leave just pale coloured cake.
Break up the cake into cake crumbs, add the buttercream. Mix the crumbs and buttercream together with a clean hand. The cake should come together into balls without crumbling- if it does not add a little more buttercream.
Roll the cake into 14 balls and place them on a tray, cover with cling film and chill for at least 30 minutes.
Gently melt the bars of chocolate in a heat proof bowl laid over a pan of simmering water- making sure the water does not touch bottom of bowl. This may be more chocolate than you need but heating less makes it more likely to burn and you need a reasonable depth to dip your lolly in.
Remove a few cakepops from the fridge at a time, so the remainder stay cold.
Dip a lolly stick into the melted chocolate and coat about 2cm of stick.
Gently push the stick into the centre of cake ball.
Then dip the ball into the melted chocolate, coat all over and allow excess to drain off.
Roll in a small ramekin of Shimmer Sugar.
Secure the stick into a block of polystyrene or florists oasis and allow them to set.
Cook's tip:
There are endless combinations of cake flavours, chocolate coatings and decorations from chocolate stars to hundreds and thousands and sparkle sugars.
This page can be found at: http://secretsauce.co.uk/cakes-desserts/cake-pop-recipes/cake-pops/
A short link can also be used: http://bit.ly/gbZAe6
Dr. Oetker

Trust, sustainability and credibility are extremely important factors in the Dr. Oetker family business. Established over 100 years ago in Germany, the business has developed with these values at its core and now enjoys a reputation as one of the most trusted food brands internationally.
More from Dr. Oetker

Delicious cupcakes decorated with vanilla buttercream and beautiful decorations

The ultimate colourful bite-size dessert - great for kids' parties or baking with the children!

Delicious eclairs - decorate them with the kids for a fun activity with a sweet treat at the end!