Chocolate delight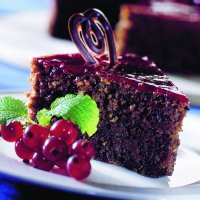 Have you ever made a cake without flour? Why would you? Well here's one very big chocolatey reason!
Serves: 6
Preparation: 25 minutes
Baking time: 50 minutes
What you need:
100g brown sugar
150g unsalted butter
3 egg yolks
150g dark chocolate
170g ground almonds
3 egg whites
2.5 tablespoons of sugar
What you do:
Mix the brown sugar and the butter in a large bowl.
Beat and fold in the egg yolks one at a time.
Mix in the dark chocolate (grated) and the ground almonds
Beat together 3 egg whites and then fold in the sugar and mix gently
Pour the mix into the baking tin and bake the cake for 50 minutes in a pre-heated oven (150degrees Celsius) until it becomes slightly rounded in the middle.

Leave to cool down completely before you remove from the baking tin.

Then spread a thin layer of red berry glaze on the cake surface and finish with chocolate decorations and some icing sugar.
This page can be found at: http://secretsauce.co.uk/cakes-desserts/cake-recipes/chocolate-cake-flour-free/
A short link can also be used: http://bit.ly/fWFCj0
World Chocolate Masters 2008

The
World Chocolate Masters
is the world's premium international culinary competition devoted solely to the creative use of chocolate in all its applications. The World finals will be held at Salon Du Chocolat in Paris from 14-16 October 2009.
More from World Chocolate Masters 2008

Just look at this beautiful ivory and ebony cake and imagine how pleased your guests will be when you serve this up!

Don't be scared of making soufflés, this chocolate one's really easy to make and takes under half-an-hour

Is it making your mouth water just looking at this picture? Impress your guests with this amazing dessert, they won't be disappointed
Popular in cake recipes

This recipe just makes my mouth water! Smooth, sweet buttercream with tempting, moist chocolate cake. Don't try and resist!

Classic lemon drizzle cake with a twist! The elderflower cordial adds an extra sweet flavour to this delicious cake. Try it and see!

For a surprising treat, the tomato ketchup cake is sure to tantalise your tastebuds!