Soft & creamy chocolate & walnut pastry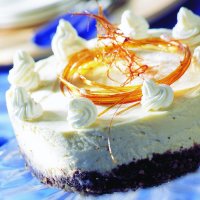 Is it making your mouth water just looking at this picture? Impress your guests with this amazing dessert, they won't be disappointed
Serves: 6 people
Takes: 40 minutes + 1 night to set
What you need:
Crunchy nut pastry base
40g Dark Chocolate
65g Chopped Walnuts
25g Brown Sugar
5g Butter
Soft creamy filling
150g milk
150g cream
1 vanilla pod
3 egg yolks
100g sugar
200g White chocolate
30g Amaretto
What you do:
Mix together the pastry base ingredients in a blender.
Mix the cream, milk and vanilla pod in a saucepan and bring to the boil. Beat together the egg yolks and the sugar. Fold into the milk-cream mixture and heat in a bain-marie while stirring constantly. Melt the white chocolate into the cream mixture and then add in the amaretto.
Spread the nut mixture out onto the bottom of a baking tray and carefully pour in the white chocolate filling. Leave to set in the freezer for at least one night.
Remove the pastry from the tin one hour before serving and decorate.
This page can be found at: http://secretsauce.co.uk/cakes-desserts/chocolate-recipes/soft-creamy-chocolate-walnut-pastry/
A short link can also be used: http://bit.ly/furM84
World Chocolate Masters 2008

The
World Chocolate Masters
is the world's premium international culinary competition devoted solely to the creative use of chocolate in all its applications. The World finals will be held at Salon Du Chocolat in Paris from 14-16 October 2009.
More from World Chocolate Masters 2008

Just look at this beautiful ivory and ebony cake and imagine how pleased your guests will be when you serve this up!

Have you ever made a cake without flour? Why would you? Well here's one very big chocolatey reason!

Don't be scared of making soufflés, this chocolate one's really easy to make and takes under half-an-hour
Popular in chocolate recipes

Lovely chocolatey gooey brownies - serve them on their own with cups of tea, or with dollops of ice cream to make a delicious dessert

Easy to make and even easier to devour, these velvety smooth chocolate truffles are just the thing to share with friends.

This is an easy and luxurious breakfast option which can be made ahead and kept in an airtight container for up to two weeks.