Banana cake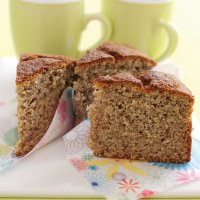 Save money by buying overripe bananas which are perfect for making this delicious banana cake and if you don't eat it all, freeze it!
Preparation time: 20 minutes
Cooking time: 1-1¼ hours
Calories per slice: 281 Kcal
Fat per portion: 10g of which saturated 5.5g
Makes: 8 slices
Suitable for vegetarians & freezing.
What you need:
Plain flour 200g (7oz)
Baking powder 2 heaped tsp
Very ripe bananas 450g (1lb), peeled
Butter 75g (3oz), softened
Golden caster sugar 110g (4oz)
Eggs 2 large, beaten
What you do:
Preheat the oven to 180°C/350°F/Gas mark 4. Grease and line a deep 18cm (7in) diameter cake tin. Sieve together the flour and baking powder returning any bran from the sieve to the bowl. Blend the bananas in a food processor until smooth.
In a separate large bowl, cream together the butter and sugar until pale and fluffy, then gradually add the eggs and beat until smooth. Beat the banana purée into the mixture. Fold in the flour and pour into the prepared baking tin.
Bake for 60-70 minutes or until a skewer inserted into the middle comes out clean. Turn out and cool on a wire rack. Cut the cake into portions. Wrap each slice in cling film and pop in the freezer. To use, reheat each slice in the microwave on high for about 60 seconds. The exact time will depend on the wattage on your microwave and the thickness of the portion - be careful, the cake is hot when it comes out of the microwave.
Handy cook's tip
This cake recipe is a great way of using leftover very ripe bananas.
Handy shopper's tip
Overly ripe bananas are often sold at a reduced price, so snap them up for this recipe.
This page can be found at: http://secretsauce.co.uk/cakes-desserts/cake-recipes/banana-cake/
A short link can also be used: http://bit.ly/h3YDxB
Dairy Diary

The new Clever Cooking for One or Two cookbook is priced at £9.50 (plus £2P&P). To order a copy or for further information call 0845 0948 128, speak to your local milkman or visit Dairy Diary
More from Dairy Diary

This is a classic British dish that's like a giant sausage roll. Serve with greens and mustard for a traditional dinner for two

While you're getting this together, why not double up on the ingredients and freeze a lovely chicken and leek pie for another time?

When it comes to cakes, very little beats a moist, soft, light, fruity muffin and these raspberry versions are no exception
Popular in cake recipes

This recipe just makes my mouth water! Smooth, sweet buttercream with tempting, moist chocolate cake. Don't try and resist!

Classic lemon drizzle cake with a twist! The elderflower cordial adds an extra sweet flavour to this delicious cake. Try it and see!

For a surprising treat, the tomato ketchup cake is sure to tantalise your tastebuds!