Chicken & leek pie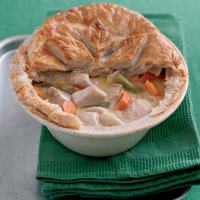 While you're getting this together, why not double up on the ingredients and freeze a lovely chicken and leek pie for another time?
Preparation time: 15 minutes
Cooling time: 20 minutes
Cooking time: 45 minutes
Calories per portion: 1072 Kcal
Fat per portion: 58g of which saturated 27.6g
Serves: 2
Suitable for freezing
What you need:

Butter 50g (2oz)
Baby leek 1, trimmed, washed and sliced
Carrots 2, peeled and thickly sliced
Skinless chicken breasts 2 (approximately 200g (7oz) each), chopped
Plain flour 2 tbsp
Milk 350ml (12fl oz)
Chicken stock cube 1
Salt and freshly ground black pepper
Puff pastry ½ x 500g pack
Egg 1, beaten for glaze
What you do:

Preheat the oven to 200°C/400°F/Gas 6. Melt half of the butter in a saucepan and add the leek and carrots and cook for 7-10 minutes, until the vegetables have softened. Remove from the pan and place in a 900ml (1½ pint) pie dish. Add the chicken to the pan and cook over a high heat for 3-4 minutes, turning the meat occasionally until browned. Add the meat to the pie dish and mix with the vegetables.
Melt the remaining butter in the pan. Add the flour and stir for a minute, then gradually add the milk, allowing the mixture to come to the boil between each addition and beating well. Add the stock cube and seasoning and stir until dissolved. Pour the sauce over the chicken and vegetables. Leave the filling to cool for 15-20 minutes.
Roll out the pastry on a lightly floured surface, until slightly larger than the pie dish. Cut thin strips off the edges, dampen the dish rim with water and stick on the strips. Dampen the pastry around the rim and place the main piece of pastry on top. Trim off excess and seal the edges with a fork. Brush egg glaze over the pastry and make a couple of holes in the centre.
Place the dish on a baking tray and bake for 25-30 minutes, or until the pastry is golden. Serve immediately.
Handy cook's tip:
Freeze when the pie has been covered with pastry. Allow the pie to defrost thoroughly before baking in the oven.
Handy shopper's tip
If you can't buy an individual leek, then an onion may be substituted in its place.
This page can be found at: http://secretsauce.co.uk/meat-poultry/chicken-recipes/chicken-leek-pie/
A short link can also be used: http://bit.ly/gAyrVC
Skandi Candle
Pure soy wax candles in Flack Fig & Vetiver or Lemon fragrances - perfect for any dinner party or romantic night in.
Dairy Diary

The new Clever Cooking for One or Two cookbook is priced at £9.50 (plus £2P&P). To order a copy or for further information call 0845 0948 128, speak to your local milkman or visit Dairy Diary
More from Dairy Diary

This is a classic British dish that's like a giant sausage roll. Serve with greens and mustard for a traditional dinner for two

When it comes to cakes, very little beats a moist, soft, light, fruity muffin and these raspberry versions are no exception

This is real crowd-pleaser so double up on the ingredients and put four of these pear and cinnamon crumbles in the freezer for future use
Popular in chicken recipes

For a quick and easy evening meal, chicken, leek and Cheddar bake, with melt in the mouth cheese, will be a firm family favourite that takes just 10 minutes to prepare

Easy to prepare, these chicken dippers are perfect handed round at parties!

This chicken, pesto and spinach tart looks so delicious it seems a shame to cut into it! But once you do, don't expect it to be there for long!