Tenderstem & Cambazola tartlet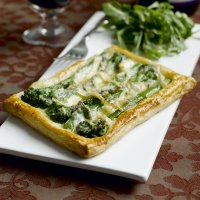 Easy yet impressive, these tartlets are ideal for al fresco eating or an indulgent dinner party dish
Serves: 4
Preparation and cooking time: 10 minutes
What you need:
200g pack Tenderstem® broccoli
1 packet ready-rolled puff pastry
200g Cambazola
What you do:
Preheat the oven to 220°C.
Blanch the Tenderstem® for 1 minute in boiling water whilst you prepare the pastry.
Cut the into 4 rectangular pieces and place it onto 2 baking trays lined with parchment.
Arrange the blanched Tenderstem® floret-to-stem along the pastry and top with thin slices of Cambazola, taking care to cover the delicate tips with cheese to prevent them scorching.
Season with a grind of black pepper and a little sea salt, and bake for about 8 minutes in a really hot oven. Serve with a punchy rocket salad.
This page can be found at: http://secretsauce.co.uk/vegetarian/tart-recipes/tenderstem-cambazola-tartlet/
A short link can also be used: http://bit.ly/gr0Rcy
Tenderstem
Tenderstem is a vegetable that's sweet, packed with good things and cooks in moments. And, because it's delicious from stem to tip, nothing needs to be discarded.
More from Tenderstem

Enjoy this delicious spaghetti dish created by Italian chef and owner of Zilli restaurants, Aldo Zilli

Halloumi's salty flavour is the perfect match for sweet cherry tomatoes and smooth Tenderstem broccoli

Lesley says: 'Tenderstem® Broccoli is perfect for stir-frying, it's rich in iron, vitamin C and folic acid. Roasting the duck on a rack with salt will ensure the skin goes really crispy.'
Popular in tart recipes

Sophie says: 'This is a lovely combination, plus it's a really interesting dish to bring out for vegetarian guests too.'

A family meal that takes 15 minutes to prepare, costs 55p per portion and will still leave some for lunch the next day - it's a dream come true!

A lovely vegetarian tart perfect for the family, just serve with a fresh green salad and you'll be well on your way to five a day