Roasted Tenderstem broccoli, grilled halloumi & cherry tomato salad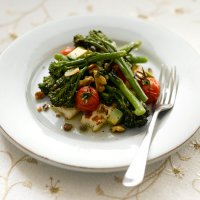 Halloumi's salty flavour is the perfect match for sweet cherry tomatoes and smooth Tenderstem broccoli
Serves: 4
Prep Time: 15 minutes
Cooking Time: 20 minutes
What you need:
300g Tenderstem® broccoli
2 large cloves garlic, thinly sliced
2 tbsp olive oil
150g cherry tomatoes
50g walnut halves, roughly chopped
2 tbsp white balsamic vinegar/condiment (or white wine or cider vinegar)
Black pepper
200g halloumi cut into 4 slices
1 ripe avocado, peeled and cubed
2 tsp small capers
What you do:
Heat oven to Gas 6/200C/400F
Place the Tenderstem® broccoli, garlic and oil in a large roasting pan. Cover with foil and roast for 15 minutes. Add the tomatoes and walnuts and roast for a further 5 minutes. The Tenderstem® broccoli should be tender by now and the tomatoes just beginning to split.
Take out of the oven and mix in the vinegar with the baking juices in the pan ensuring all the vegetables are coated and season with black pepper.
Heat a non stick pan and griddle the halloumi on both sides until golden
Plate individually, placing the halloumi on the bottom, piling the salad with all its juices on top with the avocado and capers.
More about the ingredients:
Tomatoes contains antioxidant Lycopene, is particular effective when cooked rather than raw. Also works synergistically with broccoli. Walnuts although high in fat offer good levels of omega 3 oils as long as raw or lightly roasted, especially relevant for vegetarians. Garlic stimulates immune system, may help lower cholesterol and blood pressure, good antiviral, helps body de-toxify. Best used raw or lightly cooked. Avocado, high in monounsaturates which important for healthy heart, also helps de-toxify oxidised fats. May also lower cholesterol.
This page can be found at: http://secretsauce.co.uk/vegetarian/broccoli-recipes/broccoli-halloumi-salad/
A short link can also be used: http://bit.ly/gmJgRG
Tenderstem
Tenderstem is a vegetable that's sweet, packed with good things and cooks in moments. And, because it's delicious from stem to tip, nothing needs to be discarded.
More from Tenderstem

Enjoy this delicious spaghetti dish created by Italian chef and owner of Zilli restaurants, Aldo Zilli

Lesley says: 'Tenderstem® Broccoli is perfect for stir-frying, it's rich in iron, vitamin C and folic acid. Roasting the duck on a rack with salt will ensure the skin goes really crispy.'

Smoked salmon with cream, broccoli and spring onions - this tart is great for family meals, or let it cool and have it for lunch the next day!
Popular in broccoli recipes
A great vegetarian dish which also makes a tasty side dish for chops and chicken fillets, for example.

Nisha says: 'Tenderstem, being a robust, spring vegetable, holds its own flavours when spiced. It works well with the toasted citrus notes from the mustard seeds and lemon in this dish.'

Every family needs a repertoire of recipes they can get on the table in under half-an-hour and this vegetarian one is as delicious as it is quick!