Aldo Zilli's spaghetti with Tenderstem broccoli, garlic & chilli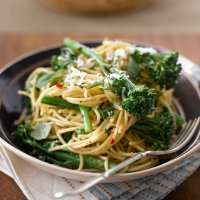 Enjoy this delicious spaghetti dish created by Italian chef and owner of Zilli restaurants, Aldo Zilli.
Aldo Zilli says: "Tenderstem broccoli was readily available when I was a child as my mother grew them on the farm where we lived and I always remember when it was in season over dosing on this great vegetable - either with pasta or without."
Serves: 4
Prep: 5 minutes
Cook: 15 minutes
What you need:
400g Spaghetti
60ml good olive oil
3 garlic cloves, crushed
2 fresh red chillies, finely chopped and deseeded
100g Tenderstem® broccoli
2 tinned anchovy, finely chopped
10 basil leaves, ripped
100g grated Parmesan
2 tablespoons chopped parsley
Sea salt & black pepper
What you do:
Cook the spaghetti according to pack instructions and drain thoroughly.
Heat the oil in a pan and add the garlic, Tenderstem® broccoli, anchovy and chilli and sauté for about 3 minutes until the garlic is soft, make sure that you cook over a medium heat as you do not want to burn the garlic. If you wish at this point you could discard the garlic because the olive oil would have already infused.
Add the pasta and Parmesan to the pan with a little of the water from the pasta pot and toss to combine, season and serve immediately with a sprinkling of fresh basil and parsley.
This page can be found at: http://secretsauce.co.uk/pasta-rice/spaghetti-recipes/broccoli-chilli-spaghetti/
A short link can also be used: http://bit.ly/hlo7pL
Tenderstem
Tenderstem is a vegetable that's sweet, packed with good things and cooks in moments. And, because it's delicious from stem to tip, nothing needs to be discarded.
More from Tenderstem

Halloumi's salty flavour is the perfect match for sweet cherry tomatoes and smooth Tenderstem broccoli

Lesley says: 'Tenderstem® Broccoli is perfect for stir-frying, it's rich in iron, vitamin C and folic acid. Roasting the duck on a rack with salt will ensure the skin goes really crispy.'

Smoked salmon with cream, broccoli and spring onions - this tart is great for family meals, or let it cool and have it for lunch the next day!
Popular in spaghetti recipes

A quick and easy family favourite, with great flavour.

This delicious spaghetti dish is ready in under 15 minutes and you could serve it cold for a packed lunch the next day!

Italian dishes don't come finer than a traditional spaghetti Bolognese and this one is sure not to disappoint