Potato, vegetable & roast garlic soup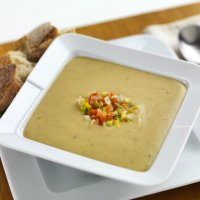 A winter warming soup ideal to make and take for lunch!
What you need:
25g Butter
2 tablespoons Vegetable Oil
4 Cloves of Garlic, peeled and roasted with a little oil in a hot oven for 10 mins (this can be done in advance and chilled)
300g Aunt Bessie's Frozen Finely Diced Vegetable Mix
5 Large Baking Potatoes, peeled and cut into 1 1/2 dice
1/2 teaspoon fresh chopped Rosemary
2 ltrs Water
Salt and Pepper to taste
200mls Double Cream
200g Aunt Bessie's Frozen Finely Diced Vegetable Mix for garnish
What you do:
Heat the oil & butter in a heavy-bottomed pan and add the 250g Aunt Bessie's Frozen Finely Diced Vegetable Mix, fry off without colouring over a low heat for 15-20 mins.
Add the potatoes, rosemary and garlic and stir into the mix for a few mins.
Pour in the water and cook out the potatoes until they start to break up.
Liquidize with a hand blender or in a food processor until smooth and velvety, add the cream and season to taste.
Add the vegetable garnish and return to the heat and allow to gently simmer for 8-10 mins.
Serve in warm bowls with some crusty bread.
This page can be found at: http://secretsauce.co.uk/vegetarian/soup-recipes/potato-vegetable-and-roast-garlic-soup/
A short link can also be used: http://bit.ly/utAL80
Aunt Bessie's

Aunt Bessie's is probably most famous for its delicious Yorkshire puddings but is always looking at new ways of making meal times even better. It has now created a whole range of delicious dishes that taste as good as homemade.
More from Aunt Bessie's

Yorkshire pudding filled with winter warming cottage pie

Indulgent, chocolatey pancakes, perfect served with a big scoop of dairy ice cream

Delicious roast beef canapes, perfect for the buffet table
Popular in soup recipes

Spice up a simple tomato soup recipe with chilli and paprika, then serve with a dollop of sour cream and chive dip and warm crusty bread

This is such a great soup if you've just battled through wind and rain to get home. Serve with muffins or crusty bread

Healthy and full of vitamins, this soup is also a great winter warmer and it's made with soya, so it's vegan too!