Yorkshire pudding cottage pie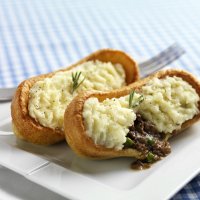 Aunt Bessie's Perfect for Sausage Yorkshire Pudding filled with winter warming cottage pie
What you need:
8 Aunt Bessies Perfect for Sausage Yorkshire Puddings
30g Veg Oil
2 onions, peeled and finely chopped
500g Beef Mince
2 tablespoons Aunt Bessies Onion Gravy Granules
400mls Boiling Water
Good pinch of thyme
150g Peas
Salt & pepper to taste
Aunt Bessies Homestyle Mashed Potato, heated to pack cooking instructions
100g Grated Mature Cheddar
What you do:
Heat the oil in a heavy bottomed-pan and add the onion fry off over a moderate heat for 10-15mins until the it starts to colour slightly.
Turn the heat up to full and add the beef mince and fry off until no raw mince is visible.
Reduce the heat back down to low.
Prepare the Gravy mix with the boiling water and then add to the mince.
Season to taste and add the peas and the thyme.
Cover the pan with a lid and cook out for approx 15mins
Be sure to stir regularly to stop it from catching on the bottom of the pan.
Heat the oven and cook the Yorkshire Puddings for 4 minutes.
Pour your hot mince mix into your Yorkshire puddings and place the heated Aunt Bessies Homestyle Mashed Potato on top.
Sprinkle with the grated cheese.
Finish under a hot grill to brown the cheese.
This page can be found at: http://secretsauce.co.uk/meat-poultry/cottage-pie-recipes/yorkshire-pudding-cottage-pie/
A short link can also be used: http://bit.ly/vb3jdk
Aunt Bessie's

Aunt Bessie's is probably most famous for its delicious Yorkshire puddings but is always looking at new ways of making meal times even better. It has now created a whole range of delicious dishes that taste as good as homemade.
More from Aunt Bessie's

Indulgent, chocolatey pancakes, perfect served with a big scoop of dairy ice cream

Delicious roast beef canapes, perfect for the buffet table

Delicious brie and cranberry canapes, perfect for entertaining
Popular in cottage pie recipes

A healthy twist to a favourite family dish

Adding carrots to the mash adds a tasty and colourful twist to this family favourite – and helps to make it slightly lower in calories. Great news if you want to lose a few pounds!