Italian-style bean soup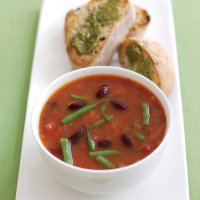 Tasty and delicious Italian bean soup that takes only 30 minutes to make, is suitable for vegetarians and can be frozen for future use!
Preparation time: 10 minutes
Cooking time: 20 minutes
Calories per portion: 558 Kcal
Fat per portion: 23g of which saturated 5g,
Serves: 1
Suitable for vegetarians and freezing
What you need:
Olive oil 1 tbsp
Onion 1 small, peeled and chopped
Garlic 1 clove, peeled and crushed
Chopped tomatoes 227g can
Dried oregano 1/2 tsp
Kidney beans 220g can, drained and rinsed
Vegetable stock 300ml (1/2 pint)
Green beans 75g (3oz) topped, tailed and halved
Salt and freshly ground black pepper
Ciabatta roll 1, sliced open
Pesto sauce 2 tbsp
What you do:
Heat the oil in a small saucepan and gently fry the onion and garlic for 4-5 minutes until softened but not browned. Stir in the tomatoes, oregano and kidney beans. Bring to the boil, cover and simmer very gently for 10 minutes.
Meanwhile, pour the stock into another small saucepan and bring to the boil. Add the green beans, cover and cook for 5 minutes until just tender. Add the cooking stock along with the cooked beans to the tomato mixture. Stir well, season and keep warm over a low heat while preparing the toasts.
Preheat the grill to hot. Line the grill tray with foil and arrange the ciabatta on the foil. Cook under the grill for 2-3 minutes until lightly toasted. Spread with pesto sauce and grill for a few seconds longer until piping hot.
Ladle the soup into a warm bowl and eat immediately with the toasted pesto ciabatta.
Handy cook's tip
Once pesto sauce is opened, keep it sealed in the fridge for up to 2 weeks or in accordance to the manufacturer's instructions.
Handy shopper's tip
For added convenience, use ready prepared frozen green beans.
This page can be found at: http://secretsauce.co.uk/vegetarian/soup-recipes/italian-bean-soup/
A short link can also be used: http://bit.ly/fcWy1L
Dairy Diary

The new Clever Cooking for One or Two cookbook is priced at £9.50 (plus £2P&P). To order a copy or for further information call 0845 0948 128, speak to your local milkman or visit Dairy Diary
More from Dairy Diary

This is a classic British dish that's like a giant sausage roll. Serve with greens and mustard for a traditional dinner for two

While you're getting this together, why not double up on the ingredients and freeze a lovely chicken and leek pie for another time?

When it comes to cakes, very little beats a moist, soft, light, fruity muffin and these raspberry versions are no exception
Popular in soup recipes

Spice up a simple tomato soup recipe with chilli and paprika, then serve with a dollop of sour cream and chive dip and warm crusty bread

This is such a great soup if you've just battled through wind and rain to get home. Serve with muffins or crusty bread

Containing two of your five a day, this easy soup is good for you and will warm you up from the inside out!