Beetroot & orange soup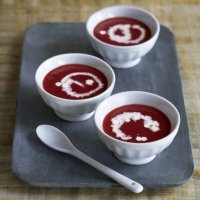 Beetroot has an earthy and distinctive flavour that can sometimes put people off. The orange juice cuts through that earthy after-taste and really enhances the taste of the beetroot. From Kim Wilde's Seeds of Change Dig Your Dinner recipes.
What you need:
450g fresh beetroot
225g onion, finely chopped
2 pints (1.2 litres) vegetable stock
Orange juice, to taste
Salt and pepper, to taste
1 tablespoon natural yoghurt or crème fraiche
Flat leafed parsley, for garnish
What you do:
To prepare the beetroot, remove the leaves and snip of the stalks. Don't cut of the crown and base - this will loose their flavour. Wash under cold water being careful not to pierce their skins.
Boil the beetroot in their skins for about 20 minutes. Take care not to over-cook them, check by using a knife. They should be easy to pierce with a skewer once cooked.
Drain the beetroot, allow to cool slightly and then rub off the skins. Chop into small pieces and put to one side.
Heat up some olive oil and gently fry the chopped onions until soft. Add the beetroot to the onion and cook for a further two minutes.
Add the stock so that it covers the vegetables by an inch or so, season with salt and pepper and slowly cook for 30 minutes.
Put in a blender and blitz, gradually adding the orange juice at intervals, tasting all the time until just right for your taste and consistency.
Season with salt and pepper and finish with a swirl of natural yoghurt or crème fraiche and garnish with flat leaf parsley.
Serve with some crusty wholemeal bread for a hearty lunch.
This page can be found at: http://secretsauce.co.uk/vegetarian/soup-recipes/beetroot-orange-soup/
A short link can also be used: http://bit.ly/geZD7l
Seeds of Change

Seeds of Change's aim is to provide a range of good, honest food, full of taste and flavour that is also good for you. The range of delicious sauces, soups, pasta and cereal bars is organic and free of artificial additives and preservatives.
More from Seeds of Change

Creamy, delicious and filling - an easy and satisfying meal for the family

This is a great one-pot dish. Look out for good quality meat in your supermarket

This delicious rhubarb crumble recipe was created by gardener and celebrity Kim Wilde
Popular in soup recipes

Spice up a simple tomato soup recipe with chilli and paprika, then serve with a dollop of sour cream and chive dip and warm crusty bread

This is such a great soup if you've just battled through wind and rain to get home. Serve with muffins or crusty bread

Containing two of your five a day, this easy soup is good for you and will warm you up from the inside out!