Mediterranean pork casserole with fresh thyme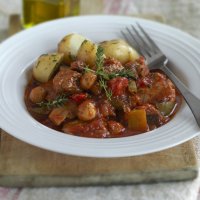 This is a great one-pot dish. Look out for good quality meat in your supermarket
Preparation: 15 mins
Cooking: 75 mins
Serves: 4
What you need:
500g pork loin, cut into cubes
1 white onion, chopped
1 garlic clove, finely chopped
1 tsp sweet paprika
2 sprigs fresh thyme
1 large green pepper, deseeded and cut into strips
1 large tomato, deseeded and cut into strips
350g jar Seeds of Change Mediterranean Vegetable Sauce
100ml chicken stock (or water)
100g baby button mushrooms
2 tsp olive oil
What you do:
Add the olive oil to a casserole dish and fry the pork cubes over a brisk heat for about 5 minutes, stirring continuously. Lower the heat, add the onion and garlic and cook for about 5 minutes until the onion is soft and translucent
Add the paprika and picked thyme leaves and season to taste. Stir in the pepper, tomato, Seeds of Change Mediterranean Vegetable Sauce, chicken stock and mushrooms. Bring to the boil, then lower the heat. Cover and simmer gently for 1 hour or until the pork is tender, stirring occasionally
Taste and adjust the seasoning. Serve at once. Boiled potatoes and broccoli are good accompaniments
This page can be found at: http://secretsauce.co.uk/meat-poultry/casserole-recipes/mediterranean-pork-casserole-with-fresh-thyme/
A short link can also be used: http://bit.ly/eMIPs3
Seeds of Change

Seeds of Change's aim is to provide a range of good, honest food, full of taste and flavour that is also good for you. The range of delicious sauces, soups, pasta and cereal bars is organic and free of artificial additives and preservatives.
More from Seeds of Change

Creamy, delicious and filling - an easy and satisfying meal for the family

This delicious rhubarb crumble recipe was created by gardener and celebrity Kim Wilde

This hearty dish will help you add a touch of spice to your midweek meal repertoire!
Popular in casserole recipes

A mouth-watering, comforting dish filled with flavour that'll fill you up and warm you from the inside out

A perfect one-pot dish that can just be left to cook in the oven, making it a convenient mid-week meal

A hearty and warming autumn dish that's easy to prepare and is well worth the wait!