Rhubarb crumble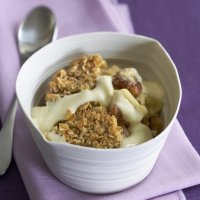 This delicious rhubarb crumble recipe is from a collection of Kim Wilde's recipes for Seeds of Change Dig Your Dinner campaign
What you need:
For the crumble:
110g plain flour
110g rolled oats
100g butter
50g demerara sugar
For the filling:
900g rhubarb, chopped into small chunks
175g caster sugar
Stem ginger in syrup, chopped
1 handful of sultanas
1 orange, rind and juice
1 handful of fresh mint, roughly chopped
What you do:
To make the filling: Wash the rhubarb and chop into small chunks. Add to a saucepan with the caster sugar, orange rind and juice and cook gently until the rhubarb starts to soften.
Add the sultanas, chopped stem ginger to taste, and some chopped mint. Mix together and place in a serving dish approximately 8 inch in diameter with a good height.
To make the crumble: Rubbing the butter into the flour until it resembles breadcrumbs, then add the oats. Stir in the demerara sugar and tip over the prepared rhubarb.
Cook for 25 minutes, or until the fruit bubbles on the surface.
Serve with custard of course!
This page can be found at: http://secretsauce.co.uk/cakes-desserts/crumble-recipes/rhubarb-crumble/
A short link can also be used: http://bit.ly/gVYnjj
Seeds of Change

Seeds of Change's aim is to provide a range of good, honest food, full of taste and flavour that is also good for you. The range of delicious sauces, soups, pasta and cereal bars is organic and free of artificial additives and preservatives.
More from Seeds of Change

Creamy, delicious and filling - an easy and satisfying meal for the family

This is a great one-pot dish. Look out for good quality meat in your supermarket

This hearty dish will help you add a touch of spice to your midweek meal repertoire!
Popular in crumble recipes

This is real crowd-pleaser so double up on the ingredients and put four of these pear and cinnamon crumbles in the freezer for future use

When it gets a bit wintry nothing beats a great crumble for dessert - it's sweet, crunchy and with a dribble of custard, perfect!

This is a perfect winter warmer of a recipe. The soft fruit is covered in a crumble topping, served with silky soft cinnamon cream.