Asparagus salad with walnuts & hazelnut dressing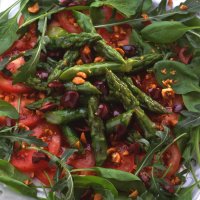 If you're looking for a really healthy salad for a light lunch, this one will fill you up with goodness!
Vegan
Serves: 4
What you need:
225g/8oz asparagus spears
25g/1oz baby spinach leaves
25g/1oz rocket leaves
450g/1lb tomatoes, sliced
30ml/2tbsp fruity olive oil
10ml/2tsp hazelnut oil
15ml/1tbsp balsamic vinegar
salt and freshly ground black pepper to taste
25g/1oz stoned black olives, roughly chopped
15g/1/2 oz chopped walnuts
What you do:
Steam the asparagus spears for 6-10 minutes. As soon as they are tender, refresh under cold running water, then cut into 5cm/2" lengths.
Arrange the spinach and rocket leaves around the edge of a serving platter. Arrange the slices of tomato in a ring inside the leaves leaving room in the centre of the plate for the asparagus spears. Place the cooled asparagus in the centre.
Mix the olive oil, hazelnut oil, balsamic vinegar and salt and pepper together. Drizzle over the salad. Sprinkle with the chopped olives and walnuts and serve.

Recipe created by the Cordon Vert cookery school
This page can be found at: http://secretsauce.co.uk/vegetarian/salad-recipes/asparagus-salad-with-walnuts/
A short link can also be used: http://bit.ly/dPkHwn
Vegetarian Society

The Vegetarian Society is a registered charity committed to promoting the health, environmental and welfare benefits of a vegetarian diet.
More from Vegetarian Society

These Halloween snails look deliciously slimy. Who's going to be brave enough to take the first bite?

A fantastic ale and mushroom pie recipe perfect to warm you up when it's chilly outside and you want something tasty and filling

Need some get up and go in the morning? This smoothie is just what you need. Ready, steady...
Popular in salad recipes

Dean says: 'This makes a fantastic veggie meal and it's ready in less than 15 minutes!'

You can't accuse this salad of being boring - the couscous with a medium spice curry flavour give it a real kick

This salad's packed full of superfoods like watercress, broccoli and garlic, so you'll be eating well and giving your health a real boost too!