Sweet potato & broccoli salad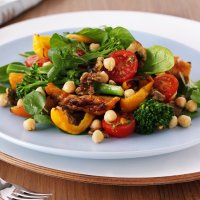 This salad's packed full of superfoods like watercress, broccoli and garlic, so you'll be eating well and giving your health a real boost too!
Serves: 4
Prep: 5 mins
Cooking: 25-30 mins
What you need:
1 (145g) bag watercress, spinach and rocket

15ml/1 tbsp olive oil

350g/12oz sweet potatoes peeled and cut into wedges

2 orange peppers, deseeded and cut into wedges

2 cloves garlic, unpeeled

150g/5oz tenderstem broccoli

1 (400g) can chick peas, drained

150g/5oz cherry tomatoes, halved

25g walnut pieces
For the dressing:
30ml/2 tbsp olive oil

15ml/1 tbsp tahini paste

Juice 1 lemon

Pinch of caster sugar

Salt and freshly ground black pepper
What you do:
Preheat the oven to 200C/180C/Gas Mark 6. Place the potatoes and peppers and unpeeled garlic cloves in a large roasting tin, add the oil and toss together. Roast for 20-25mins or until the potatoes are tender and golden.

Remove the garlic cloves then slip them from their papery skins and place the flesh in a small bowl. Use a spoon to crush the garlic flesh to a paste and mix in the olive oil, tahini, lemon juice and sugar. Season to taste.

Cut each stem of broccoli in half, then cook in boiling salted water for 3mins until just tender. Drain rinse in cold water and drain again.

i>Empty the salad leaves into a large bowl, add the broccoli, chick peas, tomatoes and walnuts. Drizzle over the dressing and toss to mix.
This page can be found at: http://secretsauce.co.uk/vegetarian/salad-recipes/sweet-potato-broccoli-salad/
A short link can also be used: http://bit.ly/f5NqA3
Bring on the salads
Salad bags are a great way to help you towards the recommended daily intake of fruit and vegetables, whether as a crunchy side dish, a refreshing starter, or a filling main course. Just one cereal bowl (80g) of salad leaves counts as one of our five portions of fruit and veg, making a salad recipe one of the easiest, most convenient and hassle free ways to achieve your '5-a-day'.
More from Bring on the salads

No cheese is tastier chargrilled than Halloumi and the sweet nectarine goes perfectly with the salty prosciutto

You won't be left hungry after this filling salad and it's full of flavour thanks to the spicy chorizo sausage!

Wave goodbye to limp lettuce, this salad has fresh leaves, celery, onions and sweetcorn to give it has a real crunch!
Popular in salad recipes

Dean says: 'This makes a fantastic veggie meal and it's ready in less than 15 minutes!'

If you're looking for a really healthy salad for a light lunch, this one will fill you up with goodness!

You can't accuse this salad of being boring - the couscous with a medium spice curry flavour give it a real kick