Spicy couscous & vegetable salad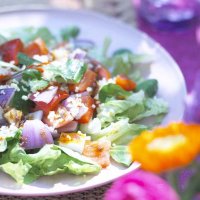 You can't accuse this salad of being boring - the couscous with a medium spice curry flavour give it a real kick

Heat rating: 3
Serves: 4
What you need:
50g Couscous (cooked as per instructions on pack)
1 small onion, diced
2 tomatoes, diced
½ small cucumber, diced
½ red pepper, diced
½ iceberg lettuce, sliced
1 heaped tbsp Patak's Madras Curry Paste
2 tbsp olive oil
¼ tsp lemon juice
fresh coriander, chopped, to garnish (optional)
1 pack Patak's Garlic & Coriander Naan Bread
What you do:
Cook the couscous as per the instructions on pack.
Mix together the vegetables and couscous in a bowl.
Sprinkle with salt and lemon juice and mix well.
Heat the olive oil in a non stick pan, remove from the heat and stir in the Patak's Madras Curry Paste, return to the heat allow to sizzle for a few minutes then remove from the heat and cool.
Drizzle the cooled paste mixture over the salad and garnish with the fresh coriander.
Heat the Patak's Garlic & Coriander Naan Bread according to the instructions on the pack, tear into pieces and serve with the Spicy Couscous and Vegetable Salad.
This page can be found at: http://secretsauce.co.uk/vegetarian/salad-recipes/spicy-couscous-and-vegetable-salad/
A short link can also be used: http://bit.ly/i3Kxvh
Patak's

Patak's - Be inspired by over 150 Indian recipes to help you create authentic, delicious meals at home.
More from Patak's

An Indian meal wouldn't be complete without the traditional onion bhajis and they take just 25 minutes to prepare and cook

This recipe is a wonderful starter or snack and taste great with homemade dips. It can easily be made for vegetarians by substituting the lamb with mashed potatoes.

Share these colourful, tasty dips and salsas with friends - perfect for eating al fresco
Popular in salad recipes

Dean says: 'This makes a fantastic veggie meal and it's ready in less than 15 minutes!'

If you're looking for a really healthy salad for a light lunch, this one will fill you up with goodness!

A simple and delicious salad created by Cordon Vert Vegetarian Cookery School