Radish coleslaw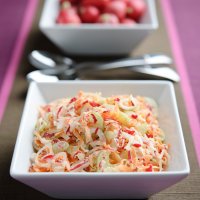 A delicious and unusual coleslaw perfect for serving with a salad dish, in a sandwich with cold meat or as an addition to any meal.
Preparation: 10 mins
Cooking: n/a mins
Serves: 6
What you need:
20 radishes
1 large carrot
6 shallots
4 sticks celery
2 tsp white wine vinegar
100ml mayonnaise
3 tbsp natural yoghurt
What you do:
Coarsely grate the radishes and carrot, then finely slice the shallots and celery.
Mix together the white wine vinegar, mayonnaise and yoghurt and season. Then add to the vegetables and combine well until everything is coated.
Cook's tip:
If made ahead give a good stir to re-combine all of the ingredients before serving.
This page can be found at: http://secretsauce.co.uk/vegetarian/radish-recipes/radish-coleslaw/
A short link can also be used: http://bit.ly/evbhoB
Love Radishes

Often thought of as just 'a bite on the side', the humble radish, with its crisp, crunchy texture and distinctive peppery bite, is a deliciously versatile snack or ingredient, perfect for adding a subtle kick to salads, sandwiches, stir fries and more.
More from Love Radishes

A delicious, healthy and quick snack or light lunch bursting with subtle flavours and brimming with colour!

A delicious Bloody Mary recipe complete with retro celery sticks and the requisite balance of fresh and bold flavours.

This beautiful and nutritious dish is inspired by the flavours of Asian cooking.
Popular in radish recipes

A great winter side dish, perfect with Asian cuisine

A zingy salad perfect for a hot summer's day

A beautifully mellow and fragrant dish, ideal as a side dish to be served alongside roast poultry or game but equally at home next to fish.