Radish Bloody Mary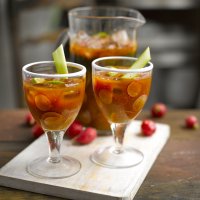 A delicious Bloody Mary recipe complete with retro celery sticks and the requisite balance of fresh and bold flavours. This can be made to taste depending on your guest. The addition of the radish rubbing shoulders with the lime presents a really effective new twist to a classic drink.
Preparation: 5 mins
Serves: 4
What you need:
100ml vodka
50ml sherry
1/2 tbsp freshly grated horseradish
25ml Worcestershire sauce
Tabasco to taste
1/2 tsp celery salt
Cracked black pepper to taste
750ml tomato juice
500g ice cubes
100g sliced radishes
1 lime cut into wedges
4 celery sticks to garnish
What you do:
Mix together the vodka, sherry, horseradish, Worcestershire sauce, Tabasco, celery salt, black pepper and tomato juice in a large jug.
Fill another large jug with the ice, sliced radishes and lime wedges.
Pour the liquid over the ice, and serve straight away in chilled glasses with celery sticks in them.
Alternatively you can let your friends mix their own, depending on how spicy they like them!
This page can be found at: http://secretsauce.co.uk/drinks/alcoholic-cocktail-recipe/radish-bloody-mary/
A short link can also be used: http://bit.ly/OuMgVZ
Love Radishes

Often thought of as just 'a bite on the side', the humble radish, with its crisp, crunchy texture and distinctive peppery bite, is a deliciously versatile snack or ingredient, perfect for adding a subtle kick to salads, sandwiches, stir fries and more.
More from Love Radishes

A delicious, healthy and quick snack or light lunch bursting with subtle flavours and brimming with colour!

This beautiful and nutritious dish is inspired by the flavours of Asian cooking.

A tasty spring salad with a kick thanks to the ruby red radishes
Popular in alcoholic cocktail recipe

A blast from the past goes Cuban! A slightly more sophisticated version of that Latin crushed ice favourite.

This refreshing gin fizz cocktail was created exclusively for Jacksons of Piccadilly by food writer Ghillie James

I bet it's a while since you tasted a gooseberry and there's no better way to refresh your memory than with this lovely gooseberry mojito