Japanese style radish and rare beef roll-ups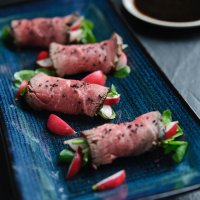 Stylish canapes with a crunchy bite thanks to the ruby red radishes
Preparation: 75 mins
Cooking: 10 mins
Serves: 16
What you need:
450g fillet steak (1 long thin piece works best)
2 tsp oil
8 radishes
4 spring onions
2cm root ginger
2 tbsp sesame oil
40ml soy sauce
1/2 tbsp wasabi paste
Bunch watercress
Black sesame seeds, to sprinkle
What you do:
Season the steak with salt and white pepper. Heat the oil in a frying pan until very hot and sear the steak on all sides so it's quite dark on the outside but still feels soft and rare on the inside. Wrap it in cling film and place it in the freezer for 1 hour.
Chop each radish into 8 wedges and slice the spring onions length ways into thin slivers.
Finely grate the ginger and combine with the sesame oil, soy and wasabi paste.
Unwrap the steak and slice as thinly as possible, you should get 16 slices out of it. Place a few pieces of radish and spring onion along with a sprig or two of watercress at one end of a slice of beef and roll it up. Repeat this until all of the beef and vegetable are used up.
Arrange the beef rolls on a plate and sprinkle with the sesame seeds, serve with the dipping sauce.
Cook's tip:
Resting the beef in the freezer means that it becomes firm and is easier to slice thinly.
If you haven't got wasabi paste substitute horseradish sauce instead.
This page can be found at: http://secretsauce.co.uk/meat-poultry/beef-recipes/japanese-style-radish-and-rare-beef-roll-ups/
A short link can also be used: http://bit.ly/qic7SD
Love Radishes

Often thought of as just 'a bite on the side', the humble radish, with its crisp, crunchy texture and distinctive peppery bite, is a deliciously versatile snack or ingredient, perfect for adding a subtle kick to salads, sandwiches, stir fries and more.
More from Love Radishes

A delicious, healthy and quick snack or light lunch bursting with subtle flavours and brimming with colour!

A delicious Bloody Mary recipe complete with retro celery sticks and the requisite balance of fresh and bold flavours.

This beautiful and nutritious dish is inspired by the flavours of Asian cooking.
Popular in beef recipes

Beef stew is the best winter warmer, slow cooked for two hours to make sure the beef is tender and has absorbed all the delicious flavours

This easy-to-make tasty meal is really healthy - helping you towards your 5-a-day. Make it with beef mince, or choose Quorn mince if you're vegetarian.

Tender beef with the spice of chilli and the sweetness from sweet potato creates an exciting stew-type dish bursting with flavour.