Toasted sourdough with avocado & radish & watercress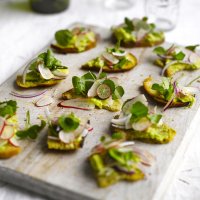 A delicious, healthy and quick snack or light lunch bursting with subtle flavours and brimming with colour!
Preparation: 10 mins
Cooking: 20 mins
Serves: 20
What you need:
1 small ripe avocado
1 lemon, juiced
2 tbls extra virgin olive oil
Salt and pepper
5 thin medium sized slices of sourdough bread
2 tbls olive oil
50g mixed radishes, thinly sliced
1/2 red onion, thinly sliced
1 bunch watercress picked
What you do:
Preheat the oven to 180c
While you are waiting for the oven to warm up, cut the avocado in half, remove the stone, scoop out the flesh and place in a small bowl. Lightly mash with a fork, then add the lemon juice and extra virgin olive oil, season then set aside.
Place the sourdough slices on a large baking tray, drizzle over the olive oil, then put in the oven for 8 to 10 minutes, or until crispy and toasted, remove from the oven and leave to cool for 5 minutes.
Once cooled break each piece of toast into 4 pieces, then spread with the avocado and top with radish, red onion and watercress. Serve at once.
This page can be found at: http://secretsauce.co.uk/vegetarian/avocado-recipes/toasted-sourdough-with-avocado-and-radish/
A short link can also be used: http://bit.ly/PO72nn
Love Radishes

Often thought of as just 'a bite on the side', the humble radish, with its crisp, crunchy texture and distinctive peppery bite, is a deliciously versatile snack or ingredient, perfect for adding a subtle kick to salads, sandwiches, stir fries and more.
More from Love Radishes

A delicious Bloody Mary recipe complete with retro celery sticks and the requisite balance of fresh and bold flavours.

This beautiful and nutritious dish is inspired by the flavours of Asian cooking.

A tasty spring salad with a kick thanks to the ruby red radishes
Popular in avocado recipes

Serve this zesty dish as a refreshingly light starter for guests or have as a lively lunch for two.

Perfect for a party, this dip is delicious and healthy too!