Stir fried radishes & coriander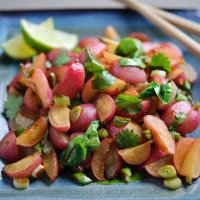 A great winter side dish, perfect with Asian cuisine
Preparation: 5 mins
Cooking: 5 mins
Serves: 2
What you need:
20 radishes
2tsp sesame oil
2tsp light soy sauce
2tsp mirin
3 spring onions
Few sprigs of coriander
Juice of half a lime
What you do:
Slice the radishes into wedges. In a wok or frying pan heat the sesame oil then toss in the radish wedges and stir fry for a few minutes until they start to soften.
Add the soy and miring and stir well then toss in the spring onions and stir through quickly. The radishes should have a bite to them rather than being completely soft.
Serve with a scattering of coriander leaves.
This page can be found at: http://secretsauce.co.uk/vegetarian/radish-recipes/stir-fried-radishes-and-coriander/
A short link can also be used: http://bit.ly/n2G4L7
Love Radishes

Often thought of as just 'a bite on the side', the humble radish, with its crisp, crunchy texture and distinctive peppery bite, is a deliciously versatile snack or ingredient, perfect for adding a subtle kick to salads, sandwiches, stir fries and more.
More from Love Radishes

A delicious, healthy and quick snack or light lunch bursting with subtle flavours and brimming with colour!

A delicious Bloody Mary recipe complete with retro celery sticks and the requisite balance of fresh and bold flavours.

This beautiful and nutritious dish is inspired by the flavours of Asian cooking.
Popular in radish recipes

A delicious and unusual coleslaw perfect for serving with a salad dish, in a sandwich with cold meat or as an addition to any meal.

A zingy salad perfect for a hot summer's day

A beautifully mellow and fragrant dish, ideal as a side dish to be served alongside roast poultry or game but equally at home next to fish.