Radish butter on rye toast with soft-boiled eggs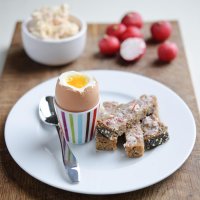 Bored of the same old breakfast? Then get your tastebuds ready for something new and exciting!
Preparation: 10 mins
Cooking: 5 mins
Serves: 2
What you need:
50g butter, softened
6 French breakfast radishes
4 slices rye bread
4 medium eggs (at room temperature)
What you do:
Grate the radishes on a fine grater and place in a bowl lined with kitchen roll (this will absorb any liquid that comes out of the radishes). Beat the butter with a fork until its very soft then add the radishes and combine well with a good twist of black pepper and a generous pinch of sea salt.
Bring a pan of water to a simmer, add the eggs and simmer for 3 mins then put the lid on and turn off the heat, leave to stand for 2 mins.
In the meantime toast the bread and whilst still warm spread generously with the radish butter. Cut the slices into soldiers and serve with the soft-boiled egg.
Cook's tip:
If you make the butter in advance keep it in the fridge then bring back to room temperature and beat again before spreading.
This page can be found at: http://secretsauce.co.uk/vegetarian/radish-recipes/radish-butter-on-rye-toast-with-soft-boiled-eggs/
A short link can also be used: http://bit.ly/jOvnhv
Love Radishes

Often thought of as just 'a bite on the side', the humble radish, with its crisp, crunchy texture and distinctive peppery bite, is a deliciously versatile snack or ingredient, perfect for adding a subtle kick to salads, sandwiches, stir fries and more.
More from Love Radishes

A delicious, healthy and quick snack or light lunch bursting with subtle flavours and brimming with colour!

A delicious Bloody Mary recipe complete with retro celery sticks and the requisite balance of fresh and bold flavours.

This beautiful and nutritious dish is inspired by the flavours of Asian cooking.
Popular in radish recipes

A delicious and unusual coleslaw perfect for serving with a salad dish, in a sandwich with cold meat or as an addition to any meal.

A great winter side dish, perfect with Asian cuisine

A zingy salad perfect for a hot summer's day