Thyme & garlic roasted potatoes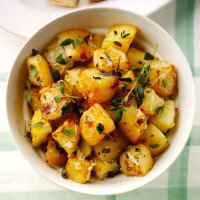 If you're making a roast this Sunday, why not perfect your roasties with garlic and thyme?
Preparation: 10 mins
Cooking: 30 mins
Serves: 4
What you need:
600g potatoes, cut into 2cm cubes
2 tbsp olive oil
2 cloves garlic, crushed
2 tbsp fresh thyme leaves, from a living pot of thyme
25g parmesan, grated
What you do:
Preheat the oven to 200oC, gas mark 6.
Parboil the potatoes for 5-7 minutes, drain and place in a roasting tin. Toss in the oil, garlic, fresh thyme and seasoning. Roast for 30 minutes or until golden and crispy.
Sprinkle with parmesan once removed from the oven and serve.
This page can be found at: http://secretsauce.co.uk/vegetarian/potato-recipes/thyme-and-garlic-roasted-potatoes/
A short link can also be used: http://bit.ly/N6FZzd
The Fresh Herb Company

The Fresh Herb Company, also known as VHB Herbs, is the largest producer and supplier of fresh herbs to the UK retail market. The Fresh Herb Company is running a campaign called 5 Ways with Fresh Living Herbs. This campaign aims to inspire people to keep pots of fresh living herbs in the kitchen so they can add healthy flavour to dishes quickly and easily.
More from The Fresh Herb Company

Atul is the only Indian chef to have two Michelin stars in the UK and is the head chef at the world renowned Benares restaurant, in London.

One of the most tempting dishes on a restaurant starter dish, so why haven't you ever tried making it at home?!

Chives are so compatible with seafood, particularly prawns. Try this delicious pasta dish and don't scrimp on the delicious fresh herbs!
Popular in potato recipes

Don't just boil those potatoes - make them a dish in itself with this delicious traditional recipe

Warming, filling and very very tasty. Perfect for after an autumnal walk in the park or a trip around the shops!

These potato cakes are delicious on their own, or serve them alongside a light meal to bulk it up and keep guests or your family satisfied!