Cavolo nero potato cakes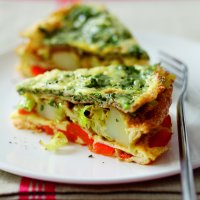 These potato cakes are delicious on their own, or serve them alongside a light meal to bulk it up and keep guests or your family satisfied!
Serves: 4
Preparation time: 15 minutes
Cooking time: 8 minutes
Nutritional values:
270kcals
11g protein
7g fat (of which 3g saturated fat)
43g carbohydrate (of which 5g sugars)
0.3g salt
4g fibre
What you need:
800g floury potatoes, diced
1 tbsp oil
1 onion, chopped
50g Parmesan cheese, grated
150g cavolo nero, finely shredded
2 tbsp flour
What you do:
Boil the potatoes for 10 minutes or until tender. Drain and return to the pan. Mash well and season.
Meanwhile, heat the oil in a frying pan and fry the onion for 3-4 minutes until golden. Stir into the mashed potato with the Parmesan. Allow to cool.
Steam the cavolo nero for 4 minutes and stir into the potato.
When just cold enough to handle, stir in the flour and mould into 8 rounds. . Shallow fry in 2 batches for 1-2 minutes on each side or until golden and heated through.
Serve with grilled bacon and salsa.
This page can be found at: http://secretsauce.co.uk/vegetarian/potato-recipes/cavolo-nero-potato-cakes/
A short link can also be used: http://bit.ly/fX2BjY
Discover Kale

Kale is one of the most tasty and attractive vegetables grown in Britain and it's packed full of good-for-you nutrients and easy to cook too.
More from Discover Kale

This super quick detox smoothie is low in saturated fat and perfect to kick-start your morning

This warm and filling high-fibre dish is great for those cold winter evenings and packs in a massive 4 of your 5 a day

Pasta's a filling dish for the family and this cavolo nero pesto pasta is ready in just 15 minutes - perfect for mid-week meals
Popular in potato recipes

Don't just boil those potatoes - make them a dish in itself with this delicious traditional recipe

Warming, filling and very very tasty. Perfect for after an autumnal walk in the park or a trip around the shops!

This Spanish tapas is the perfect dish for entertaining, surprise your friends with this deliciously different meal.