Potatoes Dauphinoise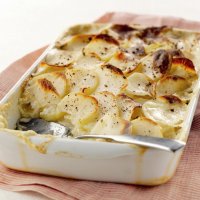 Don't just boil those potatoes - make them a dish in itself with this delicious traditional recipe
Serves: 4
Cost: 65p per portion
What you need:
200ml Alpro soya alternative to cream
200ml Alpro soya milk alternative
400g potatoes
2 cloves garlic
75g margarine
Nutmeg, grated
Pinch salt and ground black pepper to taste
What you do:
Preheat oven to 180ºC/350ºF/gas mark 4
Thinly slice potatoes. Grease casserole dish or baking tin (about 15cm by 10cm). Crush garlic and spread around the bottom. Add potatoes in layers, seasoning as you go and add a couple of pinches of freshly grated nutmeg.
Mix together the Alpro soya cream and milk. Pour over the potato mixture.
Place dish in oven and bake for about 45 minutes until soft inside and crispy on top.
Serve with selection of spring vegetables.
Potatoes dauphinoise made with dairy cream and full cream milk (per portion)
252 calories
17g fat
8.4g saturated fat
Potatoes dauphinoise made with Alpro soya alternative to yogurt (per portion)
205 calories
11.5g fat
1.8g saturated fat
This page can be found at: http://secretsauce.co.uk/vegetarian/potato-recipes/potatoes-dauphinoise/
A short link can also be used: http://bit.ly/icVF6g
Alpro Soya

Alpro Soya creates delicious products for you to enjoy any time of the day. Made from the goodness of the whole soya bean, they are prepared with care and with the utmost respect for people and planet.
More from Alpro Soya

Looking for a vegetarian alternative for Christmas dinner? Try this traditional and delicious nut roast

Start the day with this substantial breakfast that will give you enough energy to last until lunchtime

Healthy and full of vitamins, this soup is also a great winter warmer and it's made with soya, so it's vegan too!
Popular in potato recipes

Warming, filling and very very tasty. Perfect for after an autumnal walk in the park or a trip around the shops!

These potato cakes are delicious on their own, or serve them alongside a light meal to bulk it up and keep guests or your family satisfied!

This Spanish tapas is the perfect dish for entertaining, surprise your friends with this deliciously different meal.