Spanish patatas bravas, tortilla & almond green beans tapas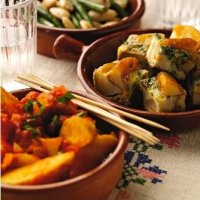 This Spanish tapas is the perfect dish for entertaining, surprise your friends with this deliciously different meal. To help you enjoy this great British summer with friends and family, McCain Foods have got some delicious recipes using McCain Wedges, which all the family will enjoy.
Preparation: 20 mins
Cooking: 25 mins
Serves: 4
What you need:
For the patatas bravas:
300g McCain Potato Lightly Spiced Wedges
1 tbsp olive oil
1 small onion, finely chopped
1 clove garlic, finely chopped
1 small red chilli, finely chopped
225g can chopped tomatoes
1 tbsp tomato puree
A pinch of sugar
1/2 tsp paprika
For the tortilla:
300g McCain Lightly Spiced Wedges
1 onion, thinly sliced
50ml virgin olive oil
6 eggs
3 tbsp chopped flat leaf parsley
Seasoning
For the almond green beans:
150g green beans
100g unsalted butter
75g whole blanched almonds
Juice of 1 lemon
What you do:
For the patatas bravas:
Place the wedges on a roasting tray and cook as per pack instructions
To make the sauce, heat 1 tbsp olive oil in a small frying pan over a medium heat. Add the onion and cook for 3-4 minutes, then add the garlic and chilli and cook for a further minute. Add the chopped tomatoes, tomato puree and paprika and continue to cook for about 5 minutes. Finally, simmer for a further 10 minutes until the sauce has thickened slightly
Transfer the wedges into a number of small tapas dishes and top with the sauce and serve hot.
For the tortilla:
Place the McCain Lightly Spiced Wedges on a roasting tray and cook as per pack instructions
Heat the oil in a heavy based or non-stick 20cm frying pan. Add the onion and cook gently for 20 minutes, stirring occasionally until the onions are soft and beginning to caramelize
Beat the eggs in a jug or bowl and add the parsley and season lightly. Add the cooked potatoes to the frying pan and gently mix with the onion. Pour in the egg mix and shake the pan to even the egg mixture amongst the onion and potatoes. Cook on a gently heat for about 15 minutes, until the egg is almost set
Preheat the grill and then place the tortilla under the grill to finish cooking. Leave to cool slightly and cut into bit size squares
For the almond green beans:
Bring a pan of salted water to the boil and add the green beans. Cook for 2-3 minutes, drain and keep warm
Put the butter into a cold pan with the almonds and heat up gently making sure the butter does not get too dark in colour. When the butter just turns golden brown and begins to foam, remove from the heat and pour in the lemon juice to stop the cooking.
Place the green beans in a tapas bowl and spoon over some of the brown butter and almonds
This page can be found at: http://secretsauce.co.uk/vegetarian/potato-recipes/spanish-patatas-bravas/
A short link can also be used: http://bit.ly/QLM6h5
McCain

McCain is Britain's favourite chip maker and takes pride in the quality of all its products. McCain is a family business that works closely with 300 British farmers, some of whom it has worked in partnership with for three generations. The company aims to make good, simple food and at its heart are its people, the community and the environment. For the full range of McCain products with nutritional information please go to http://www.mccain.co.uk
More from McCain

A traditional dish with a British twist. These Ploughman's pies are sure to go down a treat at any party this year!

A delicious curry-filled baked potato with a fruity twist

Quick and easy corned beef hash and baked potato
Popular in potato recipes

Don't just boil those potatoes - make them a dish in itself with this delicious traditional recipe

Warming, filling and very very tasty. Perfect for after an autumnal walk in the park or a trip around the shops!

These potato cakes are delicious on their own, or serve them alongside a light meal to bulk it up and keep guests or your family satisfied!