British ploughman's pies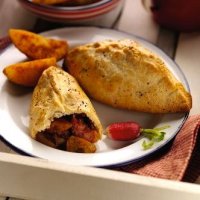 A traditional dish with a British twist. These Ploughman's pies are sure to go down a treat at any party this year! To help you enjoy this great British summer with friends and family, McCain Foods have got some delicious recipes using McCain Wedges, which all the family will enjoy. Visit www.summerofsharing.co.uk for more ideas and party tips as part of McCain's Summer of Sharing.
Preparation: 20 mins
Cooking: 30 mins
Serves: 4
What you need:
400g McCain British Wedges
150g pickled onions, drained
1/2 tsp dried chilli
Knob of butter
2 tbsp olive oil
200g mature cheddar, grated
100g chutney
150g shredded ham hock or chopped ham
10g parsley, chopped
500g ready-made short crust pastry
1 egg, beaten
Ground black pepper
What you do:
Place 150g of the wedges on a roasting tray and cook as per pack instructions. When cooked, leave to cool slightly and cut each wedge into three
Heat the butter and olive oil in a saucepan and gently cook the pickled onions and chilli until soft and brown. Season with some salt and pepper
Mix the wedges, pickled onions, cheese, chutney, ham and parsley together in a bowl. Add the big pinch of sea salt and a generous grinding of pepper
Preheat the oven to 220°C/fan oven 200C/Gas mark 7
Roll out the pastry to the thickness of a pound coin and cut 4-6 circles the same size as a saucer
Brush the edge of each pastry circle with cold water. Place a spoonful of the filling in the middle of each round and fold upwards into semi-circle to encase the filling. Crimp the edges of the join with your fingertips. Repeat until all the pastry and filling has been used
Place the pies on a baking sheet, brush with the beaten egg and sprinkle with black pepper on top. Bake for 30 minutes or until golden
Place the remaining wedges on a roasting tray and cook as per pack instructions
When the pasties are cooked, serve alongside the wedges and an English salad made with little gem lettuce, radish and cucumber
This page can be found at: http://secretsauce.co.uk/meat-poultry/pie-recipes/british-ploughmans-pies/
A short link can also be used: http://bit.ly/QLM6gZ
McCain

McCain is Britain's favourite chip maker and takes pride in the quality of all its products. McCain is a family business that works closely with 300 British farmers, some of whom it has worked in partnership with for three generations. The company aims to make good, simple food and at its heart are its people, the community and the environment. For the full range of McCain products with nutritional information please go to http://www.mccain.co.uk
More from McCain

A delicious curry-filled baked potato with a fruity twist

Quick and easy corned beef hash and baked potato

This Spanish tapas is the perfect dish for entertaining, surprise your friends with this deliciously different meal.
Popular in pie recipes

This recipe takes a little bit of time, but it's worth it for the deliciously tender meat, kidney and flaky pastry

A delicious chicken pie with a light, crisp pastry topping

British food enthusiast and celebrity chef, Ed Baines, is a well known connoisseur of British food so we're delighted to have his secret recipe for steak pie!