Layered nut roast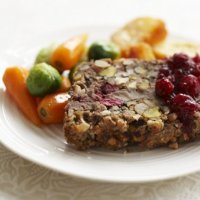 Looking for a vegetarian alternative for Christmas dinner? Try this traditional and delicious nut roast
Preparation time: 10 minutes
Cooking time: 10 minutes
Serves: 8
What you need:
3 onions, finely chopped
1tbsp soya oil
675g mixed nuts, e.g. almonds, walnuts, pecan, pistachios, chopped
350g white breadcrumbs
3 tbsp tahini
3 tbsp plain wholemeal flour
180ml Alpro soya Original alternative to milk
1tsp nutmeg, grated
½ tsp ground cloves
Salt and pepper
225g unsweetened chestnut purée
1tbsp red wine
275g fresh spinach
55g cranberries
What you do:
Heat the oil in a pan and gently fry until soft. In a large bowl mix together the nuts, breadcrumbs and cooked onion.Mix tahini, flour, Alpro soya Original, nutmeg, cloves and seasoning to a paste. Add to the nut mixture and combine thoroughly. The mixture will be fairly stiff, should hold together well, and be slightly sticky.
Mix together the chestnut and red wine until thoroughly combined.
Cook the spinach with 1 tbsp water for about 5 minutes in a large pan until lightly wilted. Drain the spinach to remove any excess liquid.
Line a 26cm x 14cm x 9cm tin with non-stick baking parchment.
Spoon a third of the nut mixture into the tin, pressing each layers down with a back of a spoon. Follow by the spinach, a further layer of nuts, followed by a layer of chestnut and cranberries. Top with the remaining nut mix.
Cook at 150°C/300°F/Gas 2 for 45 minutes, increase to 200°C/400°F/Gas 6 and cook for a further 15 minutes to give a nice crust.
Serve the nut roast with a selection of seasonal vegetables and cranberry sauce.
This page can be found at: http://secretsauce.co.uk/vegetarian/christmas-recipes/layered-nut-roast/
A short link can also be used: http://bit.ly/faNTS3
Alpro Soya

Alpro Soya creates delicious products for you to enjoy any time of the day. Made from the goodness of the whole soya bean, they are prepared with care and with the utmost respect for people and planet.
More from Alpro Soya

Don't just boil those potatoes - make them a dish in itself with this delicious traditional recipe

Start the day with this substantial breakfast that will give you enough energy to last until lunchtime

Healthy and full of vitamins, this soup is also a great winter warmer and it's made with soya, so it's vegan too!
Popular in christmas recipes

This is such a lovely accompaniment to all sorts of meat dishes, but particularly your Christmas turkey!

A fabulous centrepiece for your Christmas table

This dish is a great way to use up any leftovers from Christmas day. It's delicious hot or cold and would make a good addition to a buffet.