Porridge with spicy stewed fruit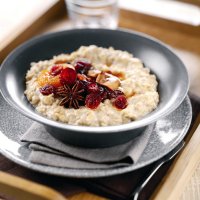 Start the day with this substantial breakfast that will give you enough energy to last until lunchtime. Store any leftover fruit stew and serve with Alpro soya alternative to plain organic yogurt.
Preparation time: 10 minutes (plus 24 hours soaking time)
Cooking time: 20 minutes
Serves: 2
Nutritional Values (per serving)
Energy kcals 1020
Protein g 24
Soya protein g 8
Total Fat g 10.6
polyunsaturated fat g 3.2
monounsaturated fat g 1.2
saturated fat g 1.2
Carbohydrate g 221
Sugar g 194
Fibre g 23
Calcium mg 582
Sodium mg 221
What you need:
For the porridge:
75g porridge oats
450ml Alpro soya Original Alternative to Milk
1 tbsp honey
½ tsp nutmeg
For the stewed fruit:
100g each of dried apricots, peaches, prunes, and figs
handful of dried cherries or cranberries
25g sugar
12 dates
300ml fresh orange juice
1 cinnamon sticks
2 star anise
What you do:
Soak the dried fruit overnight in about litre of water.
Next day, drain the fruit (reserving the water) and place in a saucepan. Put the liquid into another saucepan, with the orange juice, cinnamon, star anise and sugar. Boil, and reduce by half.
Pour the reduced liquid over the fruit, bring slowly to the boil, and simmer for 10 to 15 minutes. Remove from the heat, and allow to cool.
Place the oats and Alpro soya Alternative to Milk in a pan. Stir gently over a low heat until simmering for 2 minutes.
Stir in the honey and nutmeg.
Serve the porridge with a large spoonful of the stewed fruit.
This page can be found at: http://secretsauce.co.uk/vegetarian/porridge-recipes/porridge-with-spicy-stewed-fruit/
A short link can also be used: http://bit.ly/elTg7r
Alpro Soya

Alpro Soya creates delicious products for you to enjoy any time of the day. Made from the goodness of the whole soya bean, they are prepared with care and with the utmost respect for people and planet.
More from Alpro Soya

Don't just boil those potatoes - make them a dish in itself with this delicious traditional recipe

Looking for a vegetarian alternative for Christmas dinner? Try this traditional and delicious nut roast

Healthy and full of vitamins, this soup is also a great winter warmer and it's made with soya, so it's vegan too!
Popular in porridge recipes

A nutritious, warming breakfast to keep you going for the morning.

Enjoy the benefit of oats with this tasty take on traditional porridge!