Israeli potato latkes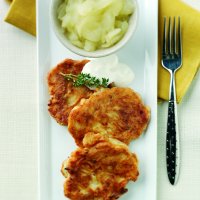 Mouth-watering potato patties - and don't be put off by the combination of sour cream and apple sauce, try it! It's so tasty!
Preparation: 15 mins
Cooking: 10 mins
Serves: 12
What you need:
350g/12oz potatoes, peeled
1 onion, peeled
50g/2oz plain flour
1 large British Lion egg, beaten
a pinch of dried or fresh thyme leaves
pinch of salt and ground black pepper
1 large egg white
oil for frying
soured cream and apple sauce to serve
What you do:
Coarsely grate the potato and onion, then place in a sieve and squeeze out any excess water. Place in a large bowl, add the flour, whole egg, thyme and salt and pepper. Beat well to mix
Whisk the egg white in a medium bowl until it forms stiff peaks, then fold into the potato mixture
Heat the oil in a non-stick frying pan, add heaped dessertspoonfuls of the mixture to the hot pan, leaving them well apart to allow for spreading. Cook over a medium heat for about 8-10mins, turning them over half way through cooking until they are golden brown and crisp. Don't cook them too hot or the outsides will cook before the centre
Remove from the pan, drain on kitchen paper and keep warm. Repeat with the remaining mixture to make about 12 patties. Serve warm with soured cream and apple sauce
This page can be found at: http://secretsauce.co.uk/vegetarian/potato-recipes/israeli-potato-latkes/
A short link can also be used: http://bit.ly/g9Tt00
British Lion eggs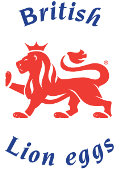 Look for the Lion on eggs to guarantee the highest standards of food safety. All Lion Quality eggs come from British hens vaccinated against salmonella and are date-stamped for freshness.
More from British Lion eggs

Celebrity chef Marcus Wareing's fantastic recipe for baked egg custard tart serves 8, but be prepared for it to only serve 4 because everyone will want a double helping!

Daniel Costello's Spanish baked eggs recipe was chosen by celebrity chef Paul Merrett as a winning recipe in British Lion eggs' Eggs Factor competition

What could be more fun on Pancake Day than setting fire to your dessert?
Popular in potato recipes

Don't just boil those potatoes - make them a dish in itself with this delicious traditional recipe

These potato cakes are delicious on their own, or serve them alongside a light meal to bulk it up and keep guests or your family satisfied!

Warming, filling and very very tasty. Perfect for after an autumnal walk in the park or a trip around the shops!