Spanish baked eggs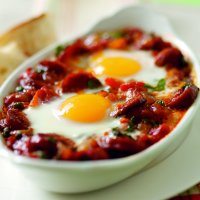 Daniel Costello's Spanish baked eggs recipe was chosen by celebrity chef Paul Merrett as a winning recipe in British Lion eggs' Eggs Factor competition
Preparation: 10 mins
Cooking: 10-12 mins
Serves: 2
What you need:
75g/ 3oz chorizo, skinned and sliced
3 shallots, chopped
1 red chilli, deseeded and chopped
1 garlic clove, chopped
1 (400g) can chopped tomatoes
10 capers
3-4 anchovies (dependant on taste)
15ml/1 tbsp red wine vinegar
45ml/3 tbsp chopped fresh flat parsley
2 large Lion Quality eggs
What you do:
Preheat oven for baking at around 200C/Fan 180C/400F/Gas Mark 6. Cook the chorizo sausage in a medium frying pan until the fat runs. add the shallots, chilli, garlic and sauté for 3mins.
Add the tomatoes, capers, anchovies, vinegar and parsley bringing them up to the boil.
Remove from the heat and spoon into a medium ovenproof dish. Make two wells in the mixture and crack and egg into each. Cover with foil and place on a baking tray. Bake for 8-10mins or until the eggs are just set or cooked to your liking. Serve with plenty of bread to mop up the juices.
This page can be found at: http://secretsauce.co.uk/meat-poultry/egg-recipes/spanish-baked-eggs/
A short link can also be used: http://bit.ly/gALd2H
British Lion eggs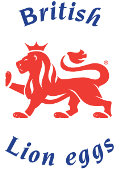 Look for the Lion on eggs to guarantee the highest standards of food safety. All Lion Quality eggs come from British hens vaccinated against salmonella and are date-stamped for freshness.
More from British Lion eggs

Celebrity chef Marcus Wareing's fantastic recipe for baked egg custard tart serves 8, but be prepared for it to only serve 4 because everyone will want a double helping!

A fantastic recipe for brunch - it looks decadent and you'll soon be wanting it every day!

What could be more fun on Pancake Day than setting fire to your dessert?
Popular in egg recipes

A fun way to prepare egg sandwiches. Get your kids to help you design the faces!

This black pudding yolkie is Jamie Wynd's winning recipe in British Lion eggs' Eggs Factor contest, judged by celebrity chef Paul Merrett

Judged to be one of the best egg recipes in Lion Eggs' Eggs Factor competition by celebrity chef Paul Merrett, this is Sergio Neale's deep fried egg dish