Marcus Wareing's baked egg custard tart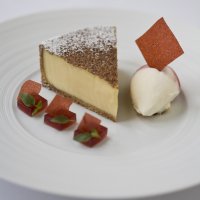 Celebrity chef Marcus Wareing's fantastic recipe for baked egg custard tart serves 8, but be prepared for it to only serve 4 because everyone will want a double helping!
Preparation: 20 mins
Cooking: 40 mins
Serves: 8
What you need:
For the pastry:
225g flour, plus extra for dusting
Pinch of salt
1 lemon, zest only
150g butter
75g caster sugar
1 large British Lion egg yolk
1 large British Lion egg
For the custard filling:
9 large British Lion egg yolks
75g caster sugar
500ml whipping cream
2 nutmegs
What you do:
Preheat the oven to 170C/325F/Gas 3.
Pastry: Rub together the flour, salt, lemon zest and butter until the mixture resembles breadcrumbs. Add the sugar, then beat together the egg yolk and whole egg and slowly add these, mixing until the pastry forms a ball. Wrap tightly in cling film and refrigerate for two hours.
Roll out the pastry on a lightly floured surface to 2mm/ 1/8 in thickness. Use to line an 18cm/7in flan ring placed on a baking sheet. Line with greaseproof paper and fill with baking beans, then bake blind for about 10 minutes or until the pastry is starting to turn golden brown. Remove the paper and beans, and allow to cool.
Turn the oven down to 130C/250F/Gas 1.
Filling: Bring the cream to the boil. Whisk the yolks and sugar together then add the cream and mix well. Pass the mixture through a fine sieve into a jug.
Place the pastry case in the oven then pour the custard mix right to the brim. Grate the nutmeg liberally over the top then bake for 30-40 minutes or until the custard appears set but not too firm. Remove from the oven and allow to cool to room temperature before serving.
This page can be found at: http://secretsauce.co.uk/cakes-desserts/tart-recipes/marcus-wareings-baked-egg-custard-tart/
A short link can also be used: http://bit.ly/ofKYMa
British Lion eggs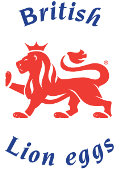 Look for the Lion on eggs to guarantee the highest standards of food safety. All Lion Quality eggs come from British hens vaccinated against salmonella and are date-stamped for freshness.
More from British Lion eggs

Daniel Costello's Spanish baked eggs recipe was chosen by celebrity chef Paul Merrett as a winning recipe in British Lion eggs' Eggs Factor competition

A fantastic recipe for brunch - it looks decadent and you'll soon be wanting it every day!

What could be more fun on Pancake Day than setting fire to your dessert?
Popular in tart recipes

A modern take on an old favourite - this no-pastry tart is scrummily sticky with lots of lemon taste to balance its sweetness

Strawberries, cream and a dash of cinnamon - the perfect pudding combination.

Make the most of summer berries in this spectacular tart and if it's the wrong season for berries, use rhubarb instead