Goat's cheese & apple snack salad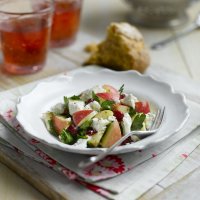 A delicious Summer salad! This recipe is part of Pink Lady apples' Summer bikini diet plan. Download the plan at www.pinkladyapples.co.uk/diet-plan.asp and lose half a stone in 4 weeks!
Preparation: 10 mins
Serves: 1
What you need:
1 Pink Lady apple, cored and chopped
40g crumbled goat's cheese
Itbsp sweetened dried cranberries
3tbsps fresh parsley leaves
2tbsps reduced fat French or vinaigrette-style dressing
What you do:
Mix together the apple, goat's cheese, cranberries and parsley leaves.
Dress with the vinaigrette and eat!
This page can be found at: http://secretsauce.co.uk/vegetarian/goats-cheese-recipes/goats-cheese-and-apple-snack-salad/
A short link can also be used: http://bit.ly/eJ2wTn
Pink Lady apples

Pink Lady apples have a distinctive crisp texture and fizzy flavour – similar to champagne. It takes 200 days of tender care and, once ripe, each apple undergoes a rigorous quality control process to ensure that the high standard is kept – only the best apples can become a Pink Lady apple. Pink Lady apples are perfect culinary apples as they retain their texture and unique flavour and little, if any, additional sugar needs to be added.
More from Pink Lady apples

Flapjacks are great for desserts, snacks and even lunchboxes, so make up a tray and watch them disappear!

This wonderfully decadent dessert is perfect to serve at a large family gathering.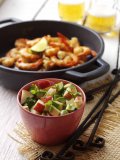 Even when the sun doesn't always shine this tasty, zingy very easy to make Australian recipe will make it seem like it does.
Popular in goats cheese recipes

Have you ever had savoury panna cotta? This one's a fantastic started and served with sweet and sour tomatoes and cashew biscuits

A delicious quick and easy open tart, perfect for a summer lunch or picnic

Sweet, earthy beetroot and tangy goats cheese are a classic combination.