Roast beetroot, walnut & grapefruit salad with goat's cheese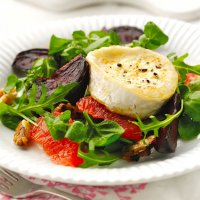 Sweet, earthy beetroot and tangy goat's cheese are a classic combination. Buttery baby leaf spinach, fiery rocket and spicy watercress help cut through the goat's cheese and highlight the sweetness of the beetroot.
Preparation: 10 mins
Cooking: 25 mins
Serves: 4
What you need:
1 bunch beetroot, trimmed and cut into wedges (450g)
3 tbsp olive oil
2 tbsp balsamic vinegar
1 pink grapefruit
1 bag Watercress, Rocket & Spinach salad, approx. 100g (140g)
50g walnut pieces, toasted
2 x 100g packs Capricorn Goat's cheese, halved
What you do:
Preheat the oven to 200oC, gas mark 6.
Place the beetroot on a baking tray and toss in 1 tbsp each oil and vinegar, season and roast for 20-25 minutes until tender.
Meanwhile, segment the grapefruit by removing all the pith, saving any juice. Whisk the juice with the remaining oil and vinegar, season.
Toss the Watercress, Rocket and Spinach salad with the beetroot, grapefruit segments and walnuts. Toss in the dressing.
Place the cheese, cut side up under a preheated grill for 3-4 minutes until golden and place on top of the salad to serve.
Cook's tip:
Try grilling Halloumi cheese instead of goat's cheese for variation.
This page can be found at: http://secretsauce.co.uk/vegetarian/goats-cheese-recipes/beetroot-and-grapefruit-salad-with-goats-cheese/
A short link can also be used: http://bit.ly/11CpsQ1
British Leafy Salads Association

Gone are the days when a salad consisted of no more than a tomato and cucumber with a few leaves on the side. Thanks to the growing, production and distribution cycle and the introduction of many different types of salad leaves which are now grown in the UK, a salad can be a tasty and satisfying meal, a refreshing snack or a sumptuous starter.
More from British Leafy Salads Association

Quick and easy to make and full of flavour, this dish will be sure to impress.

Romaine is the leaf for the Caesar salad. Its refreshing crunchy leaves add great texture and the surface of the leaves are perfect for holding the dressing.

Dean says: 'This makes a fantastic veggie meal and it's ready in less than 15 minutes!'
Popular in goats cheese recipes

Have you ever had savoury panna cotta? This one's a fantastic started and served with sweet and sour tomatoes and cashew biscuits

A delicious quick and easy open tart, perfect for a summer lunch or picnic

A warm French goat's cheese salad with pear, endive and pomegranate seeds that's bright and colourful. Perfect as a side dish, starter, main course or lunch.