Goat's cheese panna cotta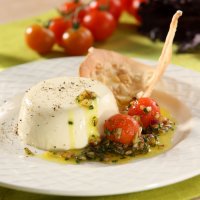 Have you ever had savoury panna cotta? This one's a fantastic started and served with sweet and sour tomatoes and cashew biscuits
Serves: 4
What you need:
For the panna cotta:
400ml double cream
100ml milk
5 tsp vegetarian gelatine powder
150g soft Goat's cheese, finely grated
For the cashew biscuits:
1 large potato, peeled, cooked, pureed and cooled
100g plain flour
2 egg whites
2 tbsp cashews, toasted, crushed
Olive oil, for brushing
For the sweet-and-sour tomatoes:
300g cherry tomatoes, peeled
1 Shallot, finely chopped
1 green chilli, finely chopped
50ml white balsamic vinegar
50g dark brown sugar
½ tsp sea salt
½ tsp ground cumin
½ tsp Turmeric
150ml Olive oil
What you do:
To make the panna cotta, sprinkle the gelatine in a cup, just cover with cold water and leave to dissolve. Gently heat the cream and milk in a saucepan. When hot, whisk in the soaked gelatine, then whisk in the goat's cheese until the mixture is smooth. Pour mixture into 4 ramekin or dariole moulds. Chill in the refrigerator for at least 1 hour.
Meanwhile, start the biscuits. Preheat the oven to 125⁰C. Place the potato purée in a bowl and add the flour and egg whites, mixing well to form a paste. Stir in the cashews. On a non-stick baking sheet, spread the biscuit mixture out with a palate knife to form 6 large teardrop shapes. Place in the oven and dry out the biscuits until they start to turn brown, around 20 minutes. Remove the biscuits from the oven and brush each one with olive oil. Lift the biscuits from the baking sheet and set aside to cool over a couple of greased rolling pins.
For the sweet-and-sour tomatoes, place the peeled tomatoes in a large pan along with the remaining ingredients, heat through over a low heat until the sugar has dissolved and the flavours infused. To serve, unmould the panna cottas and place one on each biscuit, spoon the tomatoes around and serve.
This page can be found at: http://secretsauce.co.uk/vegetarian/goats-cheese-recipes/goats-cheese-panna-cotta/
A short link can also be used: http://bit.ly/gi0q23
The Tilbury
Paul Bloxham is chef patron at
The Tilbury
pub and dining rooms in Datchworth, Hertfordshire
More from The Tilbury

Home made pate is delicious and is very easy to make - especially if you ask your butcher to mince the meat for you. Please note it needs to be made the day before eating.
Popular in goats cheese recipes

A delicious quick and easy open tart, perfect for a summer lunch or picnic

Sweet, earthy beetroot and tangy goats cheese are a classic combination.

A warm French goat's cheese salad with pear, endive and pomegranate seeds that's bright and colourful. Perfect as a side dish, starter, main course or lunch.